MI VS CSK Rivalry Similar to Pakistan Vs India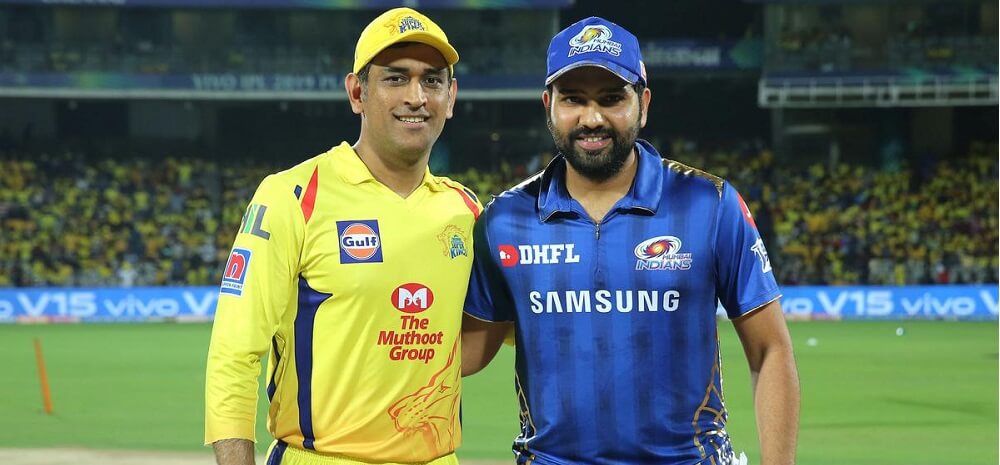 Now that the Indian Premier League (IPL) has been put on hold for the foreseeable future, we thought it would be a good idea to revisit the MI VS CSK rivalry. These two IPL teams sit on top of the pecking order and are also bitter rivals. Fans and players have compared to the intensity to be on par with that demonstrated in matches between Spanish football clubs, Barcelona and Real Madrid.
It is as if both Mumbai Indians' captain Rohit Sharm and Chennai Super Kings' supremo MS Dhoni find an extra gear that they engage specifically for these bouts. It was only befitting that the two teams faced off against each other in the IPL 2019 final with MI getting the better of Dhoni's team. To say that the match was a thriller would be an understatement.
Rohit Sharma elected to bat first after winning the toss and with the help of Pollard was able to set a target of 150 for CSK. Chennai started off well with Shane Watson scoring 80 runs in the game and bringing his team a mere inches away from glory. If you have been living under a rock and have still not witnessed the final, we urge you to click HERE and watch the MI VS CSK IPL final highlights.

This also marks the fourth time that both teams were pitted against each other in the IPL final. It was also the fourth time that MI was able to fend off fierce competition from CSK this season. It seems as if Sharma has managed to find a chink in the CSK armour and is able to exploit it at will. This will no doubt make it easier for those indulging in IPL betting to decide which side to back whenever they have a clash.
Harbhajan Singh Comments on the MI VS CSK Rivalry
Former Indian spinner, Harbhajan Singh compares the MI vs CSK rivalry to one between India and Pakistan. Singh spent a good part of the decade playing for Mumbai Indians before he was picked up by Chennai Super Kings in 2018. In his short stint at CSK, Singh was able to bag 23 wickets helping CSK reach the final twice.
"Winning the Indian Premier League with Chennai Super Kings in 2018 was a very special moment," he said. "And last year, we finished runner-up. I think we played brilliant cricket. Obviously, after having played for 10 long years in Blue, moving to Yellow took some time, but by the end of the season we had won the title" said Singh
The spinner went onto compare the MI VS CSK rivalry in the following way "First time, it was very strange. I was like 'what is this? Is this a dream?' Whenever we played against CSK, it was like India-Pakistan, it was a tough game. Then suddenly, I was not wearing blue and wearing yellow was difficult. It was very difficult to get used to"
MI VS CSK | Memorable IPL 2019 Matches
Match 15 | Wankhede Stadium
Kick starting the rivalry in 2019, both teams met on May 3, 2019 at the Wankhede Stadium. The Indians were in blistering form and set a formidable target of 171 for CSK to chase. In reply, the CSK batsmen faltered one by one with only Kedar Jadhav playing a fighting 58 run knock.

Latish Malinga and Hardik Pandya were simply too much for boys in yellow as they picked up three wickets each. Their bowling performance meant that CSK needed 56 runs of the last 12 deliveries. CSK were unable to achieve the target and loss to their archrivals by 37 runs.
Match 44 | Chepauk Stadium
The second encounter between the two teams took place at Chepauk Stadium, the second oldest stadium in country. CSK were already at a disadvantage even before the match had begun as they were playing without their regular skipper, MS Dhoni. Batting first yet once again, the Indians scored 155 runs for the loss of four wickets. A much lower score compared to their last match, CSK fans were hopeful for a victory.

Unfortunately, it was not meant to be as the CSK batting folded once again scoring just 109 runs. Lasith Malinga was the star of the bowling attack for MI as he skittled the opposition claiming four wickets for 37 runs. Among his victims was the wicket of batting race, Shane Watson who was dismissed for just 8 runs. At one stage CSK were wobbling at 66 for 6 with doubts being cast on whether they could even reach triple digits.
Qualifier 1 | Chepauk Stadium
Returning to Chepauk Stadium, CSK stood in the way of MI from reaching their fifth IPL final. Set a target of 132 by CSK, MI got off to a slow start losing two wickets for just 21 runs in the first four overs. Despite the sluggish nature of the wicket, Suryakumar Yadav played a fantastic knock scoring 71 off just 54 deliveries. His innings ultimately helped MI win the match with 6 wickets to spare.

Hopefully, IPL 2020 will introduce another chapter to this rivalry. Win CSK bounce back and conquer MI or will the Mumbai Indians be defiant as ever and lay waste to their arch rival. Let's hope that the current pandemic passes over so we can resume this intense rivalry.

Title: MI VS CSK Rivalry Similar to Pakistan Vs India
Posted On: 11/05/2020
Author: Tony Willets