MI Vs CSK – Match Report 1
Chennai Super Kings bagged the Dream11 Indian Premier League (IPL) 2020 campaign with a five-wicket win against Mumbai Indians (MI) on Saturday in Abu Dhabi.
For CSK, this match was an undoubtedly a notable one with MS Dhoni 100th IPL win as a proud captain. The match began with Ambati Rayudu as the batsman where Lungi Ngidi headed with three wickets.
On the other hand, Mumbai Indians kick-started the match with a bang! The MI openers hit a four each in the first over bowled by Deepak Chahar. Further, the MI wicketkeeper-batsman continued to score at a rapid pace to power his team to 45/0 at the end of four overs.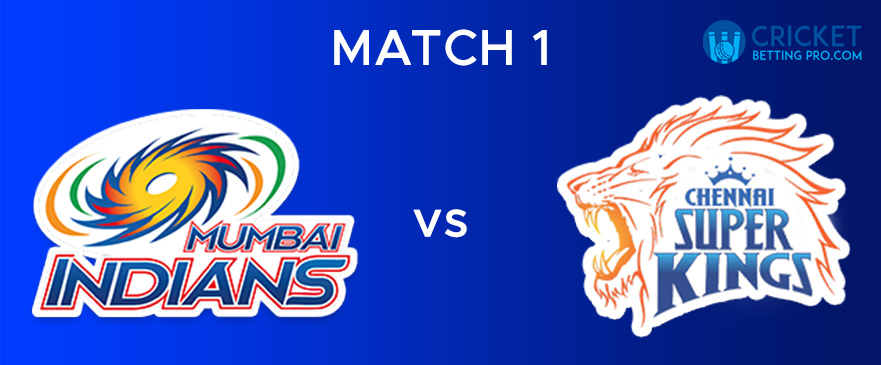 Nevertheless, CSK managed to pull their gears well with two runs as Piyush Chawala and Curran dismissed Rohit and de Kock in the last two overs of the powerplay. Saurabh Tiwary and Suryakumar Yadav then added 44 runs together before Chahar got the MI right-hander out in the 11th over.
While both CSK and MI were quite alert and cautious in their approach and never missed on the scoring opportunities to keep the scorecard increasing. It was then Rayudu who brought up his fifty-first half-century of the season – in the 12th over before CSK crossed the 100-run mark.
Finally, Curran hit Jasprit Bumrah for a six before getting out following his 6-ball 18-run cameo.  du Plessis scored up a fifty and fastened CSK's win by hitting a four!
Match Information
Match:MI vs CSK, 1st Match, Indian Premier League 2020
Date:Saturday, September 19, 2020
Toss:Chennai Super Kings won the toss and opt to bowl
Time:7:30 PM
Venue:Sheikh Zayed Stadium, Abu Dhabi
Umpires:Chris Gaffaney, Virender Sharma
Third Umpire:Sundaram Ravi
Match Referee:Manu Nayyar
Mumbai Indians Squad:
Playing: Rohit Sharma (c), Quinton de Kock (wk), Suryakumar Yadav, Saurabh Tiwary, Krunal Pandya, Hardik Pandya, Kieron Pollard, James Pattinson, Rahul Chahar, Trent Boult, Jasprit Bumrah
Chennai Super Kings Squad:
Playing: Murali Vijay, Shane Watson, Faf du Plessis, Ambati Rayudu, Kedar Jadhav, MS Dhoni (c & wk), Ravindra Jadeja, Sam Curran, Deepak Chahar, Piyush Chawla, Lungi Ngidi
Score Card
Mumbai Indians Inning
Batsmen
Runs
Balls
SR
4s
6s

Rohit Sharma

c Sam Curran b Piyush Chawla

12

10

120

2

0

Quinton de Kock

c Shane Watson b Sam Curran

33

20

165

5

0

Suryakumar Yadav

c Sam Curran b Deepak Chahar

17

16

106.25

2

0

Saurabh Tiwary

c Faf du Plessis b Ravindra Jadeja

42

31

135.48

3

1

Hardik Pandya

c Faf du Plessis b Ravindra Jadeja

14

10

140

0

2

Kieron Pollard

c MS Dhoni b Lungi Ngidi

18

14

128.57

1

1

Krunal Pandya

c MS Dhoni b Lungi Ngidi

3

3

100

0

0

James Pattinson

c Faf du Plessis b Lungi Ngidi

11

8

137.5

2

0

Rahul Chahar

NOT OUT

2

4

50

0

0

Trent Boult

b Deepak Chahar

0

1

0

0

0

Jasprit Bumrah

NOT OUT

5

3

166.66

0

0

Extras

(nb 0, w 4, b 0, lb 1, pen 0)

5

Total
(9 wickets; 20 overs)
162
| | | | | | |
| --- | --- | --- | --- | --- | --- |
| Bowler | O | R | W | Econ | Dots |
| Deepak Chahar | 4 | 32 | 2 | 8 | 7 |
| Sam Curran | 4 | 28 | 1 | 7 | 9 |
| Lungi Ngidi | 4 | 38 | 3 | 9.5 | 8 |
| Piyush Chawla | 4 | 21 | 1 | 5.25 | 11 |
| Ravindra Jadeja | 4 | 42 | 2 | 10.5 | 5 |
CSK Innings
Batsmen
Runs
Balls
SR
4s
6s

Murali Vijay

lbw James Pattinson

1

7

14.28

0

0

Shane Watson

lbw Trent Boult

4

5

80

1

0

Faf du Plessis

NOT OUT

58

44

131.81

6

0

Ambati Rayudu

c & b Rahul Chahar

71

48

147.91

6

3

Ravindra Jadeja

lbw Krunal Pandya

10

5

200

2

0

Sam Curran

c James Pattinson b Jasprit Bumrah

18

6

300

1

2

MS Dhoni

NOT OUT

0

2

0

0

0

Extras

(nb 1, w 3, b 0, lb 0, pen 0)

4

Total

(5 wickets; 19.2 overs)

166
| | | | | | |
| --- | --- | --- | --- | --- | --- |
| Bowler | O | R | W | Econ | Dots |
| Trent Boult | 3.2 | 23 | 1 | 6.9 | 12 |
| James Pattinson | 4 | 27 | 1 | 6.75 | 10 |
| Jasprit Bumrah | 4 | 43 | 1 | 10.75 | 10 |
| Krunal Pandya | 4 | 37 | 1 | 9.25 | 2 |
| Rahul Chahar | 4 | 36 | 1 | 9 | 2 |