CSK vs RCB Match Report 25
Royal Challengers Bangalore (RCB) beat Chennai Super Kings by 37 runs in the Dream11 Indian Premier League (IPL) 2020 on Saturday.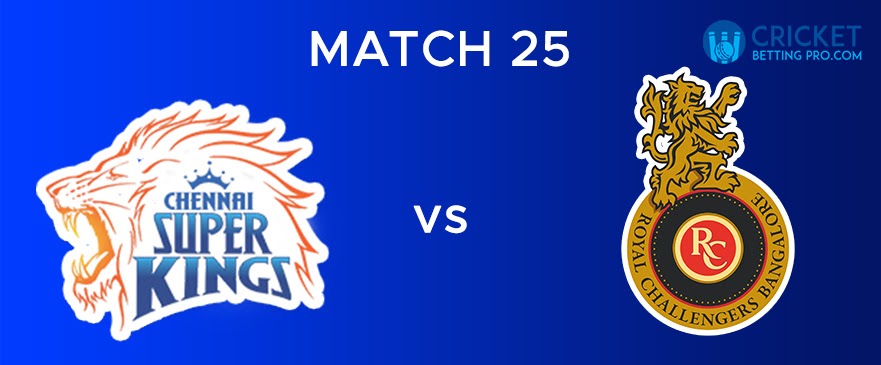 RCB chose to bat, RCB lost Aaron Finch in the third over. CSK then struck twice in the 11th over as Shardul Thakur got Devdutt Padikkal and AB de Villiers out in the space of a run.
RCB were 103/4 at the end of the 16th over and went on to score 66 runs in the last four. Kohli brought up his second fifty from the last three matches in the 17th over, with RCB closing in on 120. In the next three overs, RCB scored 49 runs, with Kohli scoring 37 of those runs. In the 18th over, RCB scored 24 runs, hitting three sixes off Sam Curran. While Kohli was successful in hitting two sixes, Shivam Dube made the most.
RCB kept things really cool as they began. Chris Morris, Navdeep Saini and Isuru Udana could make only 13 runs in the first three overs and it helped RCB get their first wicket as Faf du Plessis went aerial and was caught in the deep in the fourth over bowled by Washington Sundar.
Further, although Dhoni hit a six on the third ball he faced, Yuzvendra Chahal dismissed Dhoni for 10. While CSK needed 53 runs in the last two overs and RCB sealed a 37-run win and recorded their fourth win of the IPL season.
Match Info:
Match:CSK vs RCB, 25th Match, Indian Premier League 2020
Date:Saturday, October 10, 2020
Toss: Royal Challengers Bangalore won the toss and opt to bat
Time:7:30 PM
Venue:Dubai International Cricket Stadium , Dubai
Umpires: Paul Reiffel, Anil Chaudhary
Third Umpire:Anil Dandekar
Match Referee: Javagal Srinath
Chennai Super Kings Squad:
Playing:Shane Watson, Faf du Plessis, Ambati Rayudu, MS Dhoni (c & wk), N Jagadeesan, Sam Curran, Ravindra Jadeja, Dwayne Bravo, Shardul Thakur, Deepak Chahar, Karn Sharma
Bench:Kedar Jadhav, Murali Vijay, Lungi Ngidi, Imran Tahir, Josh Hazlewood, Mitchell Santner, Ravisrinivasan Sai Kishore, Ruturaj Gaikwad, KM Asif, Monu Kumar, Piyush Chawla
Royal Challengers Bangalore Squad:
Playing:Devdutt Padikkal, Aaron Finch, Virat Kohli (c), AB de Villiers (wk), Gurkeerat Singh Mann, Shivam Dube, Chris Morris, Washington Sundar, Isuru Udana, Navdeep Saini, Yuzvendra Chahal
Bench:Moeen Ali, Mohammed Siraj, Umesh Yadav, Dale Steyn, Parthiv Patel, Pawan Negi, Pavan Deshpande, Josh Philippe, Shahbaz Ahmed, Adam Zampa
Score Card:
ROYAL CHALLENGERS BANGALORE INNINGS
| | | | | | | |
| --- | --- | --- | --- | --- | --- | --- |
| Batsmen | | Runs | Balls | SR | 4s | 6s |
| Devdutt Padikkal | c Faf du Plessis b Shardul Thakur | 33 | 34 | 97.05 | 2 | 1 |
| Aaron Finch | b Deepak Chahar | 2 | 9 | 22.22 | 0 | 0 |
| Virat Kohli | NOT OUT | 90 | 52 | 173.07 | 4 | 4 |
| AB de Villiers | c MS Dhoni b Shardul Thakur | 0 | 2 | 0 | 0 | 0 |
| Washington Sundar | c MS Dhoni b Sam Curran | 10 | 10 | 100 | 0 | 1 |
| Shivam Dube | NOT OUT | 22 | 14 | 157.14 | 2 | 1 |
| EXTRAS | (nb 1, w 10, b 0, lb 1, pen 0) | 12 | | | | |
| TOTAL | (4 wickets; 20 overs) | 169 | | | | |
| | | | | | |
| --- | --- | --- | --- | --- | --- |
| Bowler | O | R | W | Econ | Dots |
| Deepak Chahar | 3 | 10 | 1 | 3.33 | 10 |
| Sam Curran | 4 | 48 | 1 | 12 | 6 |
| Shardul Thakur | 4 | 40 | 2 | 10 | 9 |
| Dwayne Bravo | 3 | 29 | 0 | 9.66 | 2 |
| Karn Sharma | 4 | 34 | 0 | 8.5 | 5 |
| Ravindra Jadeja | 2 | 7 | 0 | 3.5 | 6 |
CHENNAI SUPER KINGS INNINGS
| | | | | | | |
| --- | --- | --- | --- | --- | --- | --- |
| Batsmen | | Runs | Balls | SR | 4s | 6s |
| Shane Watson | b Washington Sundar | 14 | 18 | 77.77 | 3 | 0 |
| Faf du Plessis | c Chris Morris b Washington Sundar | 8 | 10 | 80 | 0 | 0 |
| Ambati Rayudu | b Isuru Udana | 42 | 40 | 105 | 4 | 0 |
| Narayan Jagadeesan | run out (Chris Morris) | 33 | 28 | 117.85 | 4 | 0 |
| MS Dhoni | c Gurkeerat Mann Singh b Yuzvendra Chahal | 10 | 6 | 166.66 | 0 | 1 |
| Sam Curran | c AB de Villiers b Chris Morris | 0 | 1 | 0 | 0 | 0 |
| Ravindra Jadeja | c Gurkeerat Mann Singh b Chris Morris | 7 | 6 | 116.66 | 1 | 0 |
| Dwayne Bravo | c Devdutt Padikkal b Chris Morris | 7 | 5 | 140 | 0 | 0 |
| Deepak Chahar | NOT OUT | 5 | 5 | 100 | 0 | 0 |
| Shardul Thakur | NOT OUT | 1 | 1 | 100 | 0 | 0 |
| EXTRAS | (nb 0, w 5, b 0, lb 0, pen 0) | 5 | | | | |
| TOTAL | (8 wickets; 20 overs) | 132 | | | | |
| | | | | | |
| --- | --- | --- | --- | --- | --- |
| Bowler | O | R | W | Econ | Dots |
| Chris Morris | 4 | 19 | 3 | 4.75 | 14 |
| Navdeep Saini | 4 | 18 | 0 | 4.5 | 16 |
| Isuru Udana | 4 | 30 | 1 | 7.5 | 5 |
| Washington Sundar | 3 | 16 | 2 | 5.33 | 7 |
| Yuzvendra Chahal | 4 | 35 | 1 | 8.75 | 6 |
| Shivam Dube | 1 | 14 | 0 | 14 | 0 |