SRH vs KKR Match Report 35
Kolkata Knight Riders (KKR) beat Sunrisers Hyderabad (SRH) in a Super Over in the Dream11 Indian Premier League (IPL) 2020 at the Sheikh Zayed Stadium in Abu Dhabi on Sunday.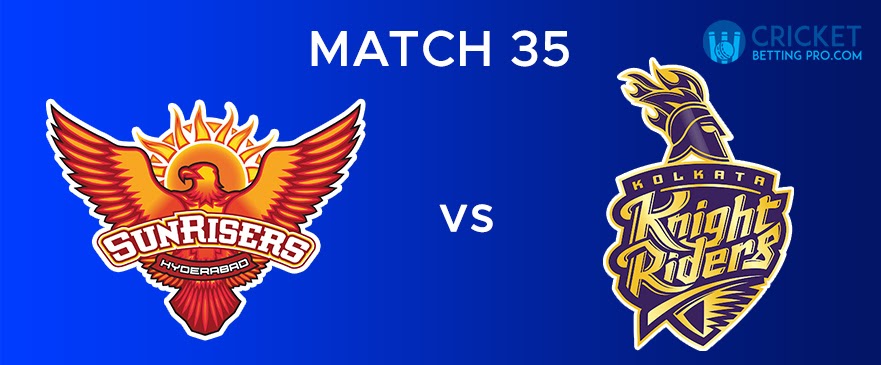 With a tie of 163 runs, the match headed for a Super Over. KKR bowled first in the Super Over and Lockie Ferguson, who had earlier picked three wickets, did an amazing job to limit SRH to 2. The right-arm pacer picked David Warner's wicket on the first ball and then disturbed the timber to dismiss Abdul Samad on the third delivery. 
With SRH needing 18 runs in the final over to win the match, it was Andre Russell who started the proceedings with a no-ball. Warner hit three successive fours on the 2nd, 3rd and 4th deliveries and brought down the required target to 4 off 2 balls.
SRH and KKR made two changes to their playing. While Basil Thampi and Abdul Samad replaced Khaleel Ahmed and Shahbaz Nadeem in SRH's playing, KKR brought Lockie Ferguson and Kuldeep Yadav into the mix, replacing Chris Green and Prasidh Krishna.
Dinesh Karthik and Eoin Morgan hit a four each in the next over. With Karthik hitting a six over KKR scored 12 off the 18th over. Karthik continued to score at a quick pace as he added a four and a six to his tally and took KKR close to 150 at the end of the 19th over. The last over saw Morgan hit a six and a four as KKR scored 16 to post 163 runs on the board. While Karthik remained unbeaten on 29, Morgan, who got out on the last ball of the innings, successfully scored 34.
Match Info:
Match:SRH vs KKR, 35th Match, Indian Premier League 2020
Date:Sunday, October 18, 2020 
Toss: Sunrisers Hyderabad won the toss and opt to bowl
Time:3:30 PM
Venue:Sheikh Zayed Stadium, Abu Dhabi
Umpires: Sundaram Ravi, Pashchim Pathak 
Third Umpire:Virender Sharma
Match Referee: Manu Nayyar
Sunrisers Hyderabad Squad:
Playing:David Warner (c), Jonny Bairstow (wk), Manish Pandey, Kane Williamson, Priyam Garg, Vijay Shankar, Abdul Samad, Rashid Khan, Sandeep Sharma, T Natarajan, Basil Thampi 
Bench:Shreevats Goswami, Siddarth Kaul, Abhishek Sharma, Prithvi Raj Yarra, Sanjay Yadav, Virat Singh, Fabian Allen, Billy Stanlake, Bavanaka Sandeep, Jason Holder, Mohammad Nabi, Wriddhiman Saha, Khaleel Ahmed, Shahbaz Nadeem 
Kolkata Knight Riders Squad:
Playing:Rahul Tripathi, Shubman Gill, Nitish Rana, Dinesh Karthik (wk), Eoin Morgan (c), Andre Russell, Pat Cummins, Shivam Mavi, Kuldeep Yadav, Lockie Ferguson, Varun Chakravarthy 
Bench:Sunil Narine, Sandeep Warrier, Siddhesh Lad, Nikhil Naik, Rinku Singh, Ali Khan, Kamlesh Nagarkoti, Tom Banton, Manimaran Siddharth, Chris Green, Prasidh Krishna
Score Card:
KOLKATA KNIGHT RIDERS INNINGS
| | | | | | | |
| --- | --- | --- | --- | --- | --- | --- |
| Batsmen | | Runs | Balls | SR | 4s | 6s |
| Shubman Gill | c Priyam Garg b Rashid Khan | 36 | 37 | 97.29 | 5 | 0 |
| Rahul Tripathi | b T Natarajan | 23 | 16 | 143.75 | 2 | 1 |
| Nitish Rana | c Priyam Garg b Vijay Shankar | 29 | 20 | 145 | 3 | 1 |
| Andre Russell | c Vijay Shankar b T Natarajan | 9 | 11 | 81.81 | 1 | 0 |
| Eoin Morgan | c Manish Pandey b Basil Thampi | 34 | 23 | 147.82 | 3 | 1 |
| Dinesh Karthik | NOT OUT | 29 | 14 | 207.14 | 2 | 2 |
| EXTRAS | (nb 1, w 0, b 0, lb 2, pen 0) | 3 | | | | |
| TOTAL | (5 wickets; 20 overs) | 163 | | | | |
| | | | | | |
| --- | --- | --- | --- | --- | --- |
| Bowler | O | R | W | Econ | Dots |
| Sandeep Sharma | 4 | 27 | 0 | 6.75 | 6 |
| Basil Thampi | 4 | 46 | 1 | 11.5 | 5 |
| T Natarajan | 4 | 40 | 2 | 10 | 9 |
| Vijay Shankar | 4 | 20 | 1 | 5 | 13 |
| Rashid Khan | 4 | 28 | 1 | 7 | 9 |
SUNRISERS HYDERABAD INNINGS
| | | | | | | |
| --- | --- | --- | --- | --- | --- | --- |
| Batsmen | | Runs | Balls | SR | 4s | 6s |
| Jonny Bairstow | c Andre Russell b Varun Chakravarthy | 36 | 28 | 128.57 | 7 | 0 |
| Kane Williamson | c Nitish Rana b Lockie Ferguson | 29 | 19 | 152.63 | 4 | 1 |
| Priyam Garg | b Lockie Ferguson | 4 | 7 | 57.14 | 0 | 0 |
| David Warner | NOT OUT | 47 | 33 | 142.42 | 5 | 0 |
| Manish Pandey | b Lockie Ferguson | 6 | 7 | 85.71 | 0 | 0 |
| Vijay Shankar | c Shubman Gill b Pat Cummins | 7 | 10 | 70 | 0 | 0 |
| Abdul Samad | c Shubman Gill b Shivam Mavi | 23 | 15 | 153.33 | 2 | 1 |
| Rashid Khan | NOT OUT | 1 | 2 | 50 | 0 | 0 |
| EXTRAS | (nb 1, w 2, b 0, lb 7, pen 0) | 10 | | | | |
| TOTAL | (6 wickets; 20 overs) | 163 | | | | |
| | | | | | |
| --- | --- | --- | --- | --- | --- |
| Bowler | O | R | W | Econ | Dots |
| Pat Cummins | 4 | 28 | 1 | 7 | 13 |
| Shivam Mavi | 3 | 34 | 1 | 11.33 | 6 |
| Varun Chakravarthy | 4 | 32 | 1 | 8 | 7 |
| Andre Russell | 2 | 29 | 0 | 14.5 | 3 |
| Lockie Ferguson | 4 | 15 | 3 | 3.75 | 13 |
| Kuldeep Yadav | 3 | 18 | 0 | 6 | 5 |
SUNRISERS HYDERABAD SUPER OVER
| | | | | | | |
| --- | --- | --- | --- | --- | --- | --- |
| Batsmen | | Runs | Balls | SR | 4s | 6s |
| David Warner | b Lockie Ferguson | 0 | 1 | 0 | 0 | 0 |
| Jonny Bairstow | NOT OUT | 0 | 0 | 0 | 0 | 0 |
| Abdul Samad | b Lockie Ferguson | 2 | 2 | 100 | 0 | 0 |
| EXTRAS | (nb 0, w 0, b 0, lb 0, pen 0) | | | | | |
| TOTAL | (2 wickets) | 2 | | | | |
| | | | | | |
| --- | --- | --- | --- | --- | --- |
| Bowler | O | R | W | Econ | Dots |
| Lockie Ferguson | 0.3 | 2 | 2 | 4 | 2 |
KOLKATA KNIGHT RIDERS SUPER OVER
| | | | | | | |
| --- | --- | --- | --- | --- | --- | --- |
| Batsmen | | Runs | Balls | SR | 4s | 6s |
| Eoin Morgan | NOT OUT | 1 | 2 | 50 | 0 | 0 |
| Dinesh Karthik | NOT OUT | 0 | 2 | 0 | 0 | 0 |
| EXTRAS | (nb 0, w 0, b 0, lb 2, pen 0) | 2 | | | | |
| TOTAL | (0 wickets) | 3 | | | | |
| | | | | | |
| --- | --- | --- | --- | --- | --- |
| Bowler | O | R | W | Econ | Dots |
| Rashid Khan | 0.4 | 1 | 0 | 1.5 | 3 |