Match 1: MI VS RCB
Royal Challengers Bangalore (RCB) started off with a big bang in the VIVO Indian Premier League (IPL) 2021 campaign with a 2-wicket win against the Mumbai Indians (MI) on Friday at the M. A. Chidambaram Stadium in Chennai.
It was AB de Villiers who provided the finishing touch, giving RCB their first win of the season. With a total of 160, Washington Sundar successfully opened the batting for the first time in the IPL but was unfortunately dropped off Boult on the second ball of the innings. The RCB skipper, Virat Kohli, on the other hand, got off the edge that marked away to the boundary.
Furthermore, RCB made a good start quite confidently by easily tackling the pace of Boult and Bumrah, and subsequently attacking the young left-arm pacer, Jansen. Halfway through, RCB were 75-2 with both Maxwell and Kohli appearing to be settled. In the eleventh over, Maxwell defeated Krunal Pandya.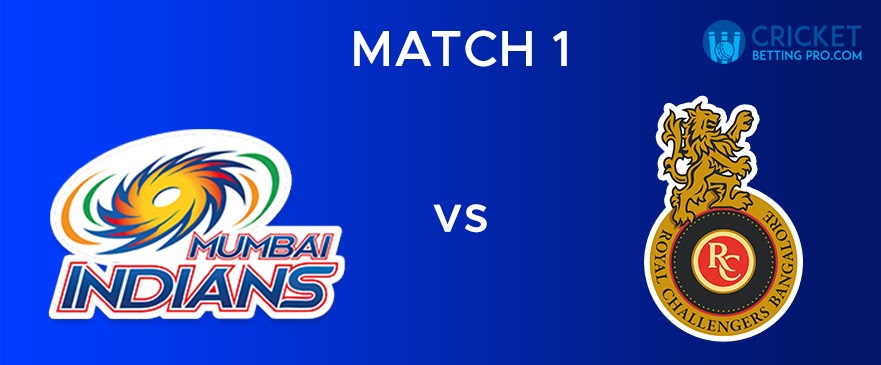 On a final note, AB de Villiers kept up with RCB's hopes immediately after the right-hander scored 15 runs off the 18th over that was bowled by Boult as well as struck two crucial boundaries against Bumrah in the penultimate over. With a total of 3 runs required off the last 3 deliveries, de Villiers ran himself out in an attempt to steal a double but RCB got off the line and was successful in winning on the last ball.
Match Info:
Match:MI vs RCB, 1st Match, Indian Premier League 2021
Date:Friday, April 09, 2021
Toss:Royal Challengers Bangalore won the toss and opt to bowl
Time:7:30 PM
Venue:MA Chidambaram Stadium, Chennai
Umpires:KN Anantha Padmanabhan, Nitin Menon
Third Umpire:Chettithody Shamshuddin
Match Referee:Vengalil Narayan Kutty
Mumbai Indians Squad:
Playing:Rohit Sharma (c), Chris Lynn, Suryakumar Yadav, Ishan Kishan (wk), Hardik Pandya, Kieron Pollard, Krunal Pandya, Rahul Chahar, Marco Jansen, Trent Boult, Jasprit Bumrah
Bench:Nathan Coulter-Nile, Piyush Chawla, Dhawal Kulkarni, Saurabh Tiwary, Aditya Tare, Adam Milne, Jayant Yadav, Anmolpreet Singh, Quinton de Kock, Anukul Roy, Mohsin Khan, Arjun Tendulkar, Yudhvir Singh, James Neesham
Royal Challengers Bangalore Squad:
Playing:Virat Kohli (c), Rajat Patidar, AB de Villiers (wk), Glenn Maxwell, Daniel Christian, Washington Sundar, Kyle Jamieson, Harshal Patel, Mohammed Siraj, Shahbaz Ahmed, Yuzvendra Chahal
Bench:Adam Zampa, Devdutt Padikkal, Sachin Baby, Navdeep Saini, Kane Richardson, Srikar Bharat, Pavan Deshpande, Finn Allen, Suyash Prabhudessai, Mohammed Azharuddeen
MUMBAI INDIANS INNINGS:
(RUN RATE: 7.95)
| | | | | | | |
| --- | --- | --- | --- | --- | --- | --- |
| Batsmen | | Runs | Balls | SR | 4s | 6s |
| Rohit Sharma | run out (Virat Kohli/Yuzvendra Chahal) | 19 | 15 | 126.66 | 1 | 1 |
| Chris Lynn | c & b Washington Sundar | 49 | 35 | 140 | 4 | 3 |
| Suryakumar Yadav | c AB de Villiers b Kyle Jamieson | 31 | 23 | 134.78 | 4 | 1 |
| Ishan Kishan | lbw Harshal Patel | 28 | 19 | 147.36 | 2 | 1 |
| Hardik Pandya | lbw Harshal Patel | 13 | 10 | 130 | 2 | 0 |
| Kieron Pollard | c Washington Sundar b Harshal Patel | 7 | 9 | 77.77 | 1 | 0 |
| Krunal Pandya | c Dan Christian b Harshal Patel | 7 | 7 | 100 | 1 | 0 |
| Marco Jansen | b Harshal Patel | 0 | 2 | 0 | 0 | 0 |
| Rahul Chahar | run out (Virat Kohli/AB de Villiers) | 0 | 0 | 0 | 0 | 0 |
| Jasprit Bumrah | NOT OUT | 1 | 2 | 50 | 0 | 0 |
| EXTRAS | (nb 2, w 2, b 0, lb 0, pen 0) | 4 | | | | |
| TOTAL | (9 wickets; 20 overs) | 159 | | | | |
| DID NOT BAT: | Trent Boult | | | | | |
| | | | | | |
| --- | --- | --- | --- | --- | --- |
| Bowler | O | R | W | Econ | Dots |
| Mohammed Siraj | 4 | 22 | 0 | 5.5 | 12 |
| Kyle Jamieson | 4 | 27 | 1 | 6.75 | 13 |
| Yuzvendra Chahal | 4 | 41 | 0 | 10.25 | 8 |
| Shahbaz Ahmed | 1 | 14 | 0 | 14 | 0 |
| Harshal Patel | 4 | 27 | 5 | 6.75 | 12 |
| Dan Christian | 2 | 21 | 0 | 10.5 | 3 |
| Washington Sundar | 1 | 7 | 1 | 7 | 2 |
FALL OF WICKETS
1-24 (Sharma, 3.6 ov) ,2-94 (Yadav, 10.6 ov) ,3-105 (Lynn, 12.5 ov) ,4-135 (Pandya, 15.6 ov) ,5-145 (Kishan, 17.4 ov) ,6-158 (Pandya, 19.1 ov) ,7-158 (Pollard, 19.2 ov) ,8-158 (Jansen, 19.4 ov) ,9-159 (Chahar, 19.6 ov)
ROYAL CHALLENGERS BANGALORE INNINGS:
(RUN RATE: 8.00)
| | | | | | | |
| --- | --- | --- | --- | --- | --- | --- |
| Batsmen | | Runs | Balls | SR | 4s | 6s |
| Washington Sundar | c Chris Lynn b Krunal Pandya | 10 | 16 | 62.5 | 0 | 0 |
| Virat Kohli | lbw Jasprit Bumrah | 33 | 29 | 113.79 | 4 | 0 |
| Rajat Patidar | b Trent Boult | 8 | 8 | 100 | 1 | 0 |
| Glenn Maxwell | c Chris Lynn b Marco Jansen | 39 | 28 | 139.28 | 3 | 2 |
| AB de Villiers | run out (Krunal Pandya/Ishan Kishan) | 48 | 27 | 177.77 | 4 | 2 |
| Shahbaz Ahmed | c Krunal Pandya b Marco Jansen | 1 | 2 | 50 | 0 | 0 |
| Dan Christian | c Rahul Chahar b Jasprit Bumrah | 1 | 3 | 33.33 | 0 | 0 |
| Kyle Jamieson | run out (Jasprit Bumrah) | 4 | 4 | 100 | 0 | 0 |
| Harshal Patel | NOT OUT | 4 | 3 | 133.33 | 0 | 0 |
| Mohammed Siraj | NOT OUT | 0 | 1 | 0 | 0 | 0 |
| EXTRAS | (nb 1, w 9, b 0, lb 2, pen 0) | 12 | | | | |
| TOTAL | (8 wickets; 20 overs) | 160 | | | | |
| DID NOT BAT: | Yuzvendra Chahal | | | | | |
| | | | | | |
| --- | --- | --- | --- | --- | --- |
| Bowler | O | R | W | Econ | Dots |
| Trent Boult | 4 | 36 | 1 | 9 | 12 |
| Jasprit Bumrah | 4 | 26 | 2 | 6.5 | 10 |
| Marco Jansen | 4 | 28 | 2 | 7 | 9 |
| Krunal Pandya | 4 | 25 | 1 | 6.25 | 9 |
| Rahul Chahar | 4 | 43 | 0 | 10.75 | 4 |
FALL OF WICKETS
1-36 (Sundar, 4.2 ov) ,2-46 (Patidar, 5.5 ov) ,3-98 (Kohli, 12.3 ov) ,4-103 (Maxwell, 14.1 ov) ,5-106 (Ahmed, 14.6 ov) ,6-122 (Christian, 16.3 ov) ,7-152 (Jamieson, 18.5 ov) ,8-158 (de Villiers, 19.4 ov)