Match 19: CSK vs RCB
Chennai Super Kings (CSK) made a successful victory over the Royal Challengers Bangalore (RCB) in the Match 19 of the VIVO Indian Premier League (IPL) 2021 at the Wankhede Stadium in Mumbai on Sunday.
The match was truly a noteworthy one with Jadeja smashing 62 off 28 deliveries including 37 runs off the final over and then picked 3/13 with the ball, along with a direct hit as CSK, after scoring 191/4, restricted RCB to 122/9 to seal a 69-run win. Virat Kohli and Devdutt Padikkal on the other hand made a very confident start.
Further, Imran Tahir joined the wicket-taking party as he dismissed Harshal Patel and Navdeep Saini and RCB were reduced to 94-8 at the end of 14 overs. While the leg-spinner disturbed the timber to dismiss Patel, Saini edged it to Raina.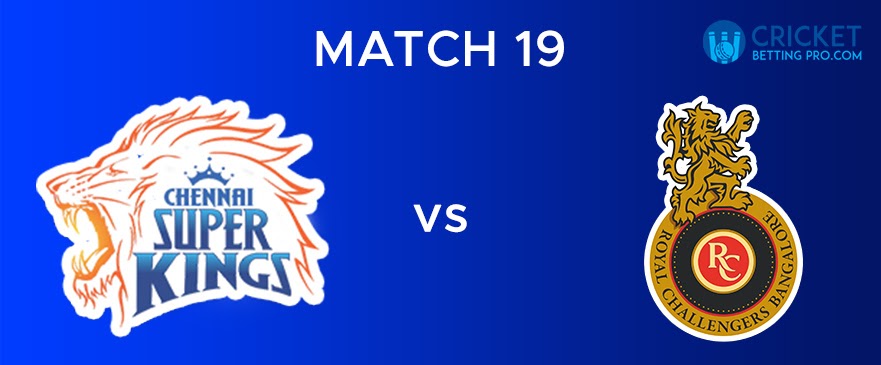 The two new batsmen, Jadeja and Ambati Rayudu counter-attacked and made a quick partnership with RCB misfielding on a number of occasions. Jadeja hit two fours while Rayudu hit one out of the ground in the 16th over by Jamieson, who conceded 17 runs. Siraj conceded only 6 runs in the next over and bowled really well. Harshal dismissed Rayudu, who tried to clear the boundary.
Finally, Jadeja finished off excellently well, smashing 37 runs off the final over and hitting five sixes and one four as CSK finished the innings with a commanding total of 191/4, making a win.
Match info:
Match:CSK vs RCB, 19th Match, Indian Premier League 2021
Date:Sunday, April 25, 2021
Toss:Chennai Super Kings won the toss and opt to bat
Time:3:30 PM
Venue:Wankhede Stadium, Mumbai
Umpires:Anil Kumar Chaudhary, Virender Sharma
Third Umpire:Navdeep Singh
Match Referee:Shakti Singh
Chennai Super Kings Squad:
Playing:Ruturaj Gaikwad, Faf du Plessis, Suresh Raina, Ambati Rayudu, MS Dhoni (c & wk), Ravindra Jadeja, Sam Curran, Dwayne Bravo, Shardul Thakur, Deepak Chahar, Imran Tahir
Bench:Lungi Ngidi, Moeen Ali, Jason Behrendorff, Mitchell Santner, Krishnappa Gowtham, Robin Uthappa, Cheteshwar Pujara, Karn Sharma, Ravisrinivasan Sai Kishore, Hari Nishanth, N Jagadeesan, KM Asif, Harishankar Reddy, Bhagath Varma
Royal Challengers Bangalore Squad:
Playing:Virat Kohli (c), Devdutt Padikkal, Glenn Maxwell, AB de Villiers (wk), Washington Sundar, Daniel Christian, Kyle Jamieson, Harshal Patel, Navdeep Saini, Mohammed Siraj, Yuzvendra Chahal
Bench:Shahbaz Ahmed, Kane Richardson, Adam Zampa, Sachin Baby, Srikar Bharat, Pavan Deshpande, Rajat Patidar, Mohammed Azharuddeen, Finn Allen, Suyash Prabhudessai, Daniel Sams
CHENNAI SUPER KINGS INNINGS
(RUN RATE: 9.55)
| | | | | | | |
| --- | --- | --- | --- | --- | --- | --- |
| Batsmen | | Runs | Balls | SR | 4s | 6s |
| Ruturaj Gaikwad | c Kyle Jamieson b Yuzvendra Chahal | 33 | 25 | 132 | 4 | 1 |
| Faf du Plessis | c Dan Christian b Harshal Patel | 50 | 41 | 121.95 | 5 | 1 |
| Suresh Raina | c Devdutt Padikkal b Harshal Patel | 24 | 18 | 133.33 | 1 | 3 |
| Ambati Rayudu | c Kyle Jamieson b Harshal Patel | 14 | 7 | 200 | 1 | 1 |
| Ravindra Jadeja | NOT OUT | 62 | 28 | 221.42 | 4 | 5 |
| MS Dhoni | NOT OUT | 2 | 3 | 66.66 | 0 | 0 |
| EXTRAS | (nb 2, w 3, b 0, lb 1, pen 0) | 6 | | | | |
| TOTAL | (4 wickets; 20 overs) | 191 | | | | |
| DID NOT BAT: | | | | | | |
| Dwayne Bravo ,Sam Curran ,Shardul Thakur ,Deepak Chahar ,Imran Tahir | | | | | | |
| | | | | | |
| --- | --- | --- | --- | --- | --- |
| Bowler | O | R | W | Econ | Dots |
| Mohammed Siraj | 4 | 32 | 0 | 8 | 9 |
| Kyle Jamieson | 3 | 31 | 0 | 10.33 | 5 |
| Yuzvendra Chahal | 3 | 24 | 1 | 8 | 8 |
| Navdeep Saini | 2 | 27 | 0 | 13.5 | 1 |
| Harshal Patel | 4 | 51 | 3 | 12.75 | 9 |
| Dan Christian | 2 | 12 | 0 | 6 | 5 |
| Washington Sundar | 2 | 13 | 0 | 6.5 | 7 |
FALL OF WICKETS
1-74 (Gaikwad, 9.1 ov) ,2-111 (Raina, 13.4 ov) ,3-111 (du Plessis, 13.5 ov) ,4-142 (Rayudu, 17.3 ov)
ROYAL CHALLENGERS BANGALORE INNINGS
(RUN RATE: 6.10)
| | | | | | | |
| --- | --- | --- | --- | --- | --- | --- |
| Batsmen | | Runs | Balls | SR | 4s | 6s |
| Virat Kohli | c MS Dhoni b Sam Curran | 8 | 7 | 114.28 | 1 | 0 |
| Devdutt Padikkal | c Suresh Raina b Shardul Thakur | 34 | 15 | 226.66 | 4 | 2 |
| Washington Sundar | c Ruturaj Gaikwad b Ravindra Jadeja | 7 | 11 | 63.63 | 1 | 0 |
| Glenn Maxwell | b Ravindra Jadeja | 22 | 15 | 146.66 | 3 | 0 |
| AB de Villiers | b Ravindra Jadeja | 4 | 9 | 44.44 | 0 | 0 |
| Dan Christian | run out (Ravindra Jadeja) | 1 | 3 | 33.33 | 0 | 0 |
| Kyle Jamieson | run out (Imran Tahir) | 16 | 13 | 123.07 | 1 | 1 |
| Harshal Patel | b Imran Tahir | 0 | 8 | 0 | 0 | 0 |
| Navdeep Saini | c Suresh Raina b Imran Tahir | 2 | 4 | 50 | 0 | 0 |
| Yuzvendra Chahal | NOT OUT | 8 | 21 | 38.09 | 0 | 0 |
| Mohammed Siraj | NOT OUT | 12 | 14 | 85.71 | 0 | 1 |
| EXTRAS | (nb 0, w 5, b 0, lb 3, pen 0) | 8 | | | | |
| TOTAL | (9 wickets; 20 overs) | 122 | | | | |
| | | | | | |
| --- | --- | --- | --- | --- | --- |
| Bowler | O | R | W | Econ | Dots |
| Deepak Chahar | 2 | 25 | 0 | 12.5 | 4 |
| Sam Curran | 4 | 35 | 1 | 8.75 | 9 |
| Shardul Thakur | 4 | 11 | 1 | 2.75 | 17 |
| Ravindra Jadeja | 4 | 13 | 3 | 3.25 | 15 |
| Imran Tahir | 4 | 16 | 2 | 4 | 14 |
| Dwayne Bravo | 2 | 19 | 0 | 9.5 | 4 |
FALL OF WICKETS
1-44 (Kohli, 3.1 ov) ,2-54 (Padikkal, 4.6 ov) ,3-65 (Sundar, 6.2 ov) ,4-79 (Maxwell, 8.5 ov) ,5-81 (Christian, 9.4 ov) ,6-83 (de Villiers, 10.1 ov) ,7-89 (Patel, 11.6 ov) ,8-94 (Saini, 13.1 ov) ,9-103 (Jamieson, 15.6 ov)