Match 2: CSK VS DC
Delhi Capitals (DC) geared up their VIVO Indian Premier League (IPL) 2021 campaign with a 7-wicket victory against the Chennai Super Kings (CSK) at the Wankhede Stadium in Mumbai on Saturday.
Shikhar Dhawan and Prithvi Shaw made a kick start that helped DC chase down a challenging total with ease. With a target score of 189, DC needed an aggressive start from their openers and the pair of Dhawan and Shaw did that successfully.
On the other hand, CSK skipper MS Dhoni introduced spin into the attack to put an end to the opening partnership and this provided them with a breakthrough. Rishabh Pant, who was captaining for the first time in the IPL joined the party after hitting a four that was bowled by Deepak Chahar, who conceded 12 runs in his last over.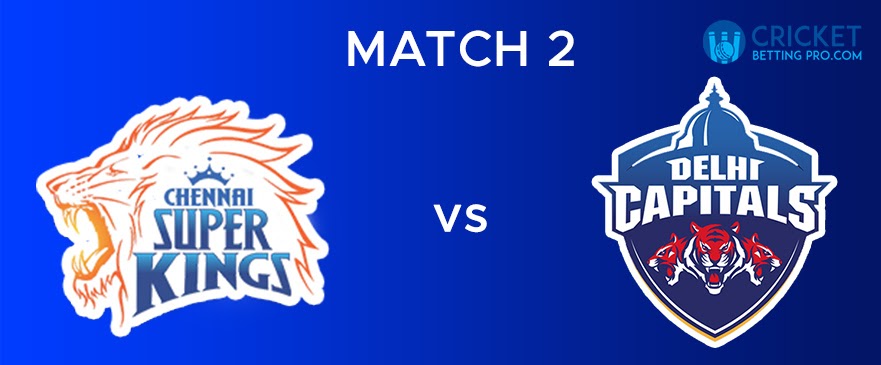 Further, CSK skipper MS Dhoni got out on the second delivery by providing Avesh with his second wicket. CSK finally reached the 150-mark at the end of 17 overs, hoping to finish on a high note. Avesh bowled excellently well, ending with figures of 2-23 off his four overs.
Sam Curran hit two sixes and a four in the penultimate over and it was his brother, Tom at the receiving end. Nevertheless, Woakes hit the last ball thus making their team proud.
Match Info:
Match:CSK vs DC, 2nd Match, Indian Premier League 2021
Date:Saturday, April 10, 2021
Toss:Delhi Capitals won the toss and opt to bowl
Time:7:30 PM
Venue:Wankhede Stadium, Mumbai
Umpires:Virender Sharma, Anil Kumar Chaudhary
Third Umpire:Sundaram Ravi
Match Referee:Manu Nayyar
Chennai Super Kings Squad:
Playing: Ruturaj Gaikwad, Faf du Plessis, Suresh Raina, Ambati Rayudu, Moeen Ali, MS Dhoni (c & wk), Ravindra Jadeja, Sam Curran, Dwayne Bravo, Shardul Thakur, Deepak Chahar
Bench: Robin Uthappa, Imran Tahir, Cheteshwar Pujara, Karn Sharma, Jason Behrendorff, Krishnappa Gowtham, Bhagath Varma, Harishankar Reddy, KM Asif, N Jagadeesan, Hari Nishanth, Ravisrinivasan Sai Kishore, Mitchell Santner, Lungi Ngidi
Delhi Capitals Squad:
Playing:
Shikhar Dhawan, Prithvi Shaw, Ajinkya Rahane, Rishabh Pant (c & wk), Marcus Stoinis, Shimron Hetmyer, Chris Woakes, Ravichandran Ashwin, Tom Curran, Amit Mishra, Avesh Khan
Bench: Ishant Sharma, Umesh Yadav, Steven Smith, Sam Billings, Axar Patel, Lukman Meriwala, Kagiso Rabada, Praveen Dubey, Anrich Nortje, Vishnu Vinod, Manimaran Siddharth, Lalit Yadav, Ripal Patel
CHENNAI SUPER KINGS INNINGS:
(RUN RATE: 9.40)
| | | | | | | |
| --- | --- | --- | --- | --- | --- | --- |
| Batsmen | | Runs | Balls | SR | 4s | 6s |
| Ruturaj Gaikwad | c Shikhar Dhawan b Chris Woakes | 5 | 8 | 62.5 | 1 | 0 |
| Faf du Plessis | lbw Avesh Khan | 0 | 3 | 0 | 0 | 0 |
| Moeen Ali | c Shikhar Dhawan b Ravichandran Ashwin | 36 | 24 | 150 | 4 | 2 |
| Suresh Raina | run out (Chris Woakes/Rishabh Pant) | 54 | 36 | 150 | 3 | 4 |
| Ambati Rayudu | c Shikhar Dhawan b Tom Curran | 23 | 16 | 143.75 | 1 | 2 |
| Ravindra Jadeja | NOT OUT | 26 | 17 | 152.94 | 3 | 0 |
| MS Dhoni | b Avesh Khan | 0 | 2 | 0 | 0 | 0 |
| Sam Curran | b Chris Woakes | 34 | 15 | 226.66 | 4 | 2 |
| EXTRAS | (nb 1, w 2, b 0, lb 7, pen 0) | 10 | | | | |
| TOTAL | (7 wickets; 20 overs) | 188 | | | | |
| DID NOT BAT: | Dwayne Bravo ,Shardul Thakur ,Deepak Chahar | | | | | |
| | | | | | |
| --- | --- | --- | --- | --- | --- |
| Bowler | O | R | W | Econ | Dots |
| Chris Woakes | 3 | 18 | 2 | 6 | 11 |
| Avesh Khan | 4 | 23 | 2 | 5.75 | 11 |
| Ravichandran Ashwin | 4 | 47 | 1 | 11.75 | 9 |
| Tom Curran | 4 | 40 | 1 | 10 | 7 |
| Amit Mishra | 3 | 27 | 0 | 9 | 4 |
| Marcus Stoinis | 2 | 26 | 0 | 13 | 4 |
FALL OF WICKETS
1-7 (du Plessis, 1.4 ov) ,2-7 (Gaikwad, 2.1 ov) ,3-60 (Ali, 8.3 ov) ,4-123 (Rayudu, 13.5 ov) ,5-137 (Raina, 15.1 ov) ,6-137 (Dhoni, 15.3 ov) ,7-188 (Curran, 19.6 ov)
DELHI CAPITALS INNINGS:
(RUN RATE: 10.17)
| | | | | | | |
| --- | --- | --- | --- | --- | --- | --- |
| Batsmen | | Runs | Balls | SR | 4s | 6s |
| Prithvi Shaw | c Moeen Ali b Dwayne Bravo | 72 | 38 | 189.47 | 9 | 3 |
| Shikhar Dhawan | lbw Shardul Thakur | 85 | 54 | 157.4 | 10 | 2 |
| Rishabh Pant | NOT OUT | 15 | 12 | 125 | 2 | 0 |
| Marcus Stoinis | c Sam Curran b Shardul Thakur | 14 | 9 | 155.55 | 3 | 0 |
| Shimron Hetmyer | NOT OUT | 0 | 0 | 0 | 0 | 0 |
| EXTRAS | (nb 1, w 3, b 0, lb 0, pen 0) | 4 | | | | |
| TOTAL | (3 wickets; 18.4 overs) | 190 | | | | |
| DID NOT BAT: | Ajinkya Rahane ,Chris Woakes ,Tom Curran ,Ravichandran Ashwin ,Amit Mishra ,Avesh Khan | | | | | |
| | | | | | |
| --- | --- | --- | --- | --- | --- |
| Bowler | O | R | W | Econ | Dots |
| Deepak Chahar | 4 | 36 | 0 | 9 | 8 |
| Sam Curran | 2 | 24 | 0 | 12 | 2 |
| Shardul Thakur | 3.4 | 53 | 2 | 14.45 | 6 |
| Ravindra Jadeja | 2 | 16 | 0 | 8 | 2 |
| Moeen Ali | 3 | 33 | 0 | 11 | 2 |
| Dwayne Bravo | 4 | 28 | 1 | 7 | 7 |
FALL OF WICKETS
1-138 (Shaw, 13.3 ov) ,2-167 (Dhawan, 16.3 ov) ,3-186 (Stoinis, 18.3 ov)