Match 20: DC vs SRH
The Delhi Capitals continue their terrific run this season with their fifth win against the Sunrisers Hyderabad (SRH) at the M.A Chidambaram Stadium, Chennai on Sunday. The game went to the super over, the first of the season, with Delhi coming out on top.
Delhi Capitals won the toss and elected to bat. The openers got off to a decent start setting up the thriller quite well. Prithvi Shaw scored 53 off 39 balls while Rishabh Pant scored 37 off 27. The middle overs were dominated by the Hyderabad bowlers, with Siddharth Kaul and Rashid Khan leading the effort. Steve Smith's 34 of 25 balls provided much needed runs and took the Capitals to a decent total of 159/4 at the end of 20 overs.
In return, The Sunrisers got off to an explosive start thanks to Jonny Bairstow's 38 of 18 deliveries. However, the bowling attack of Delhi controlled the pace of the game for a majority of the innings by taking wickets at regular intervals. Key contributions were from Avesh Khan, with his 3/34, and Azar Patel, with figures of 2/26. A late flourish by Kane Williamson, who was the top scorer for the Sunrisers with his 66 from 51 balls, brought the game to a thrilling super over by tieing the game at 159/7 in 20 overs.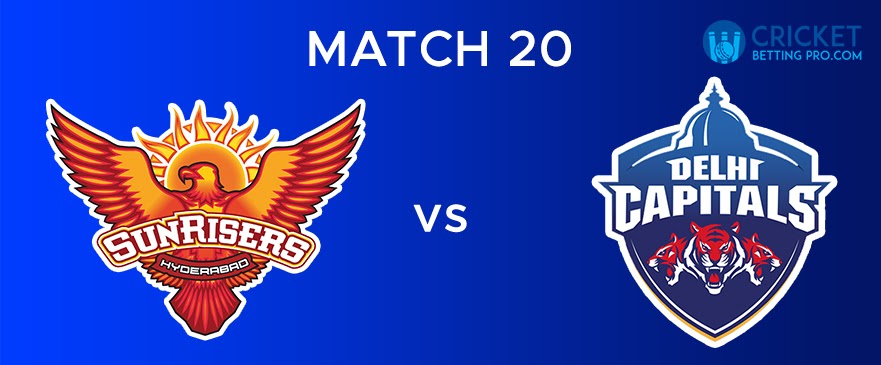 The Sunrisers took batting first and scored just 7 runs even with in-form batsman like Kane Williamson and David Warner. Rishabh Pant scored the winning runs easily and gave the win to Delhi.
Match Info:
Match:SRH vs DC, 20th Match, Indian Premier League 2021
Date:Sunday, April 25, 2021
Toss:Delhi Capitals won the toss and opt to bat
Time:7:30 PM
Venue:MA Chidambaram Stadium, Chennai
Umpires:KN Anantha Padmanabhan, Chris Gaffaney
Third Umpire:Tapan Sharma
Match Referee:Sunil Chaturvedi
Sunrisers Hyderabad Squad:
Playing:David Warner (c), Jonny Bairstow (wk), Kane Williamson, Virat Singh, Vijay Shankar, Abhishek Sharma, Kedar Jadhav, Rashid Khan, Jagadeesha Suchith, Khaleel Ahmed, Siddarth Kaul
Bench:Wriddhiman Saha, Shreevats Goswami, Manish Pandey, Mohammad Nabi, Jason Roy, Shahbaz Nadeem, Jason Holder, Sandeep Sharma, Basil Thampi, Mujeeb Ur Rahman, Priyam Garg, Abdul Samad, Bhuvneshwar Kumar
Delhi Capitals Squad:
Playing:Prithvi Shaw, Shikhar Dhawan, Steven Smith, Rishabh Pant (c & wk), Shimron Hetmyer, Marcus Stoinis, Axar Patel, Ravichandran Ashwin, Kagiso Rabada, Amit Mishra, Avesh Khan
Bench:Ishant Sharma, Ajinkya Rahane, Umesh Yadav, Chris Woakes, Aniruddha Joshi, Sam Billings, Lukman Meriwala, Tom Curran, Praveen Dubey, Anrich Nortje, Vishnu Vinod, Manimaran Siddharth, Shams Mulani, Ripal Patel, Lalit Yadav
DELHI CAPITALS INNINGS
(RUN RATE: 7.95)
| | | | | | | |
| --- | --- | --- | --- | --- | --- | --- |
| Batsmen | | Runs | Balls | SR | 4s | 6s |
| Prithvi Shaw | run out (Khaleel Ahmed/Jagadeesha Suchith) | 53 | 39 | 135.89 | 7 | 1 |
| Shikhar Dhawan | b Rashid Khan | 28 | 26 | 107.69 | 3 | 0 |
| Rishabh Pant | c Jagadeesha Suchith b Siddarth Kaul | 37 | 27 | 137.03 | 4 | 1 |
| Steve Smith | NOT OUT | 34 | 25 | 136 | 3 | 1 |
| Shimron Hetmyer | c Kane Williamson b Siddarth Kaul | 1 | 2 | 50 | 0 | 0 |
| Marcus Stoinis | NOT OUT | 2 | 2 | 100 | 0 | 0 |
| EXTRAS | (nb 1, w 2, b 1, lb 0, pen 0) | 4 | | | | |
| TOTAL | (4 wickets; 20 overs) | 159 | | | | |
| DID NOT BAT: | Axar Patel ,Ravichandran Ashwin ,Kagiso Rabada ,Amit Mishra ,Avesh Khan | | | | | |
| | | | | | |
| --- | --- | --- | --- | --- | --- |
| Bowler | O | R | W | Econ | Dots |
| Khaleel Ahmed | 4 | 42 | 0 | 10.5 | 6 |
| Abhishek Sharma | 1 | 14 | 0 | 14 | 2 |
| Siddarth Kaul | 4 | 31 | 2 | 7.75 | 8 |
| Jagadeesha Suchith | 4 | 21 | 0 | 5.25 | 9 |
| Vijay Shankar | 3 | 19 | 0 | 6.33 | 7 |
| Rashid Khan | 4 | 31 | 1 | 7.75 | 7 |
FALL OF WICKETS
1-81 (Dhawan, 10.2 ov) ,2-84 (Shaw, 11.3 ov) ,3-142 (Pant, 18.2 ov) ,4-145 (Hetmyer, 18.6 ov)
SUNRISERS HYDERABAD INNINGS
(RUN RATE: 7.95)
| | | | | | | |
| --- | --- | --- | --- | --- | --- | --- |
| Batsmen | | Runs | Balls | SR | 4s | 6s |
| David Warner | run out (Kagiso Rabada/Rishabh Pant) | 6 | 8 | 75 | 0 | 0 |
| Jonny Bairstow | c Shikhar Dhawan b Avesh Khan | 38 | 18 | 211.11 | 3 | 4 |
| Kane Williamson | NOT OUT | 66 | 51 | 129.41 | 8 | 0 |
| Virat Singh | c Marcus Stoinis b Avesh Khan | 4 | 14 | 28.57 | 0 | 0 |
| Kedar Jadhav | st Rishabh Pant b Amit Mishra | 9 | 9 | 100 | 1 | 0 |
| Abhishek Sharma | lbw Axar Patel | 5 | 6 | 83.33 | 0 | 0 |
| Rashid Khan | lbw Axar Patel | 0 | 1 | 0 | 0 | 0 |
| Vijay Shankar | b Avesh Khan | 8 | 7 | 114.28 | 0 | 0 |
| Jagadeesha Suchith | NOT OUT | 14 | 6 | 233.33 | 2 | 1 |
| EXTRAS | (nb 0, w 5, b 2, lb 2, pen 0) | 9 | | | | |
| TOTAL | (7 wickets; 20 overs) | 159 | | | | |
| DID NOT BAT: | Siddarth Kaul ,Khaleel Ahmed | | | | | |
| | | | | | |
| --- | --- | --- | --- | --- | --- |
| Bowler | O | R | W | Econ | Dots |
| Kagiso Rabada | 3 | 25 | 0 | 8.33 | 7 |
| Ravichandran Ashwin | 4 | 27 | 0 | 6.75 | 12 |
| Marcus Stoinis | 1 | 12 | 0 | 12 | 2 |
| Axar Patel | 4 | 26 | 2 | 6.5 | 11 |
| Avesh Khan | 4 | 34 | 3 | 8.5 | 9 |
| Amit Mishra | 4 | 31 | 1 | 7.75 | 8 |
FALL OF WICKETS
1-28 (Warner, 3.2 ov) ,2-56 (Bairstow, 5.4 ov) ,3-84 (Singh, 11.2 ov) ,4-104 (Jadhav, 14.2 ov) ,5-117 (Sharma, 16.1 ov) ,6-117 (Khan, 16.2 ov) ,7-136 (Shankar, 18.3 ov)
SUNRISERS HYDERABAD
SUPER OVER
| | | | | | | |
| --- | --- | --- | --- | --- | --- | --- |
| Batsmen | | Runs | Balls | SR | 4s | 6s |
| David Warner | NOT OUT | 2 | 3 | 66.66 | 0 | 0 |
| Kane Williamson | NOT OUT | 4 | 3 | 133.33 | 1 | 0 |
| EXTRAS | (nb 0, w 0, b 0, lb 1, pen 0) | 1 | | | | |
| TOTAL | (0 wickets) | 7 | | | | |
| | | | | | |
| --- | --- | --- | --- | --- | --- |
| Bowler | O | R | W | Econ | Dots |
| Axar Patel | 1 | 6 | 0 | 6 | 3 |
DELHI CAPITALS
SUPER OVER
| | | | | | | |
| --- | --- | --- | --- | --- | --- | --- |
| Batsmen | | Runs | Balls | SR | 4s | 6s |
| Rishabh Pant | NOT OUT | 5 | 4 | 125 | 1 | 0 |
| Shikhar Dhawan | NOT OUT | 0 | 2 | 0 | 0 | 0 |
| EXTRAS | (nb 0, w 0, b 0, lb 3, pen 0) | 3 | | | | |
| TOTAL | (0 wickets) | 8 | | | | |
| | | | | | |
| --- | --- | --- | --- | --- | --- |
| Bowler | O | R | W | Econ | Dots |
| Rashid Khan | 1 | 5 | 0 | 5 | 4 |