Match 9: MI vs SRH
Mumbai Indians (MI) were successful in making their second consecutive victory after beating the Sunrisers Hyderabad (SRH) in Match 9 of the VIVO Indian Premier League (IPL) 2021 at the M. A Chidambaram Stadium in Chennai on Saturday.
To start off, SRH made the best of the powerplay, scoring 57/0 in the 6 overs, with Bairstow striking the ball super-clean. SRH were 74/2 at the 10-overs mark as Warner continued playing his shots against the MI spinners before the SRH skipper fell victim to an excellent direct-hit from Hardik Pandya inside the circle that ended his innings of 36.
Further, the duo kept rotating the strike but the SRH spinners did not allow them to switch to aggressive mode, forcing de Kock to play an aerial shot off Mujeeb Ur Rahman, straight to the outfielder at mid-wicket and the left-hander was gone for a well-made 40.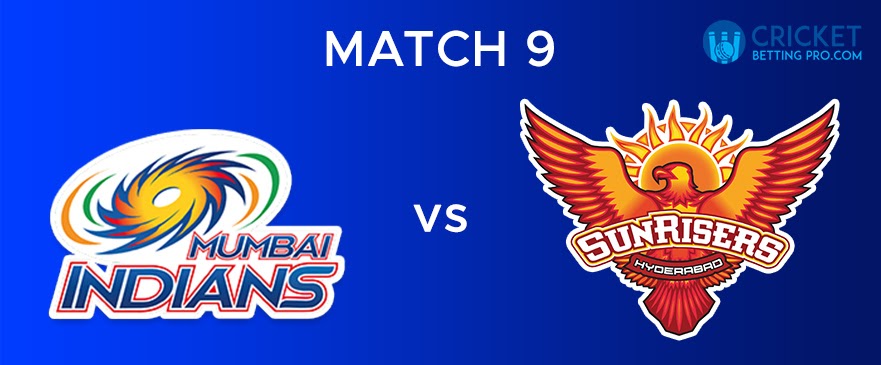 Finally, it was Pollard who did not allow SRH to get away with their excellent bowling after the right-handed West Indian batsman made the final two deliveries for six, which enabled MI to reach the 150 mark thus declaring a win.
Match Info:
Match:MI vs SRH, 9th Match, Indian Premier League 2021
Date:Saturday, April 17, 2021
Toss:Mumbai Indians won the toss and opt to bat
Time:7:30 PM
Venue:MA Chidambaram Stadium, Chennai
Umpires:Chris Gaffaney, Krishnamachari Srinivasan
Third Umpire:KN Anantha Padmanabhan
Match Referee:Sunil Chaturvedi
Mumbai Indians Squad:
Playing:Rohit Sharma (c), Quinton de Kock (wk), Suryakumar Yadav, Ishan Kishan, Hardik Pandya, Kieron Pollard, Krunal Pandya, Rahul Chahar, Adam Milne, Jasprit Bumrah, Trent Boult
Bench:Marco Jansen, Piyush Chawla, Dhawal Kulkarni, Saurabh Tiwary, Aditya Tare, Chris Lynn, Nathan Coulter-Nile, Jayant Yadav, James Neesham, Anmolpreet Singh, Anukul Roy, Mohsin Khan, Arjun Tendulkar, Yudhvir Singh
Sunrisers Hyderabad Squad:
Playing:David Warner (c), Jonny Bairstow (wk), Manish Pandey, Virat Singh, Vijay Shankar, Abhishek Sharma, Abdul Samad, Rashid Khan, Bhuvneshwar Kumar, Mujeeb Ur Rahman, Khaleel Ahmed
Bench:Shahbaz Nadeem, T Natarajan, Wriddhiman Saha, Jason Holder, Kane Williamson, Shreevats Goswami, Siddarth Kaul, Kedar Jadhav, Mohammad Nabi, Jason Roy, Sandeep Sharma, Basil Thampi, Jagadeesha Suchith, Priyam Garg
MUMBAI INDIANS INNINGS
(RUN RATE: 7.50)
| | | | | | | |
| --- | --- | --- | --- | --- | --- | --- |
| Batsmen | | Runs | Balls | SR | 4s | 6s |
| Quinton de Kock | c sub (Jagadeesha Suchith) b Mujeeb Ur Rahman | 40 | 39 | 102.56 | 5 | 0 |
| Rohit Sharma | c Virat Singh b Vijay Shankar | 32 | 25 | 128 | 2 | 2 |
| Suryakumar Yadav | c & b Vijay Shankar | 10 | 6 | 166.66 | 1 | 1 |
| Ishan Kishan | c Jonny Bairstow b Mujeeb Ur Rahman | 12 | 21 | 57.14 | 0 | 0 |
| Kieron Pollard | NOT OUT | 35 | 22 | 159.09 | 1 | 3 |
| Hardik Pandya | c Virat Singh b Khaleel Ahmed | 7 | 5 | 140 | 1 | 0 |
| Krunal Pandya | NOT OUT | 3 | 3 | 100 | 0 | 0 |
| EXTRAS | (nb 1, w 4, b 0, lb 6, pen 0) | 11 | | | | |
| TOTAL | (5 wickets; 20 overs) | 150 | | | | |
| DID NOT BAT: | Adam Milne ,Rahul Chahar ,Jasprit Bumrah ,Trent Boult | | | | | |
| | | | | | |
| --- | --- | --- | --- | --- | --- |
| Bowler | O | R | W | Econ | Dots |
| Bhuvneshwar Kumar | 4 | 45 | 0 | 11.25 | 6 |
| Khaleel Ahmed | 4 | 24 | 1 | 6 | 12 |
| Mujeeb Ur Rahman | 4 | 29 | 2 | 7.25 | 10 |
| Abhishek Sharma | 1 | 5 | 0 | 5 | 2 |
| Vijay Shankar | 3 | 19 | 2 | 6.33 | 8 |
| Rashid Khan | 4 | 22 | 0 | 5.5 | 11 |
FALL OF WICKETS
1-55 (Sharma, 6.3 ov) ,2-71 (Yadav, 8.3 ov) ,3-98 (de Kock, 13.5 ov) ,4-114 (Kishan, 16.5 ov) ,5-131 (Pandya, 18.4 ov)
SUNRISERS HYDERABAD INNINGS
(RUN RATE: 6.96)
| | | | | | | |
| --- | --- | --- | --- | --- | --- | --- |
| Batsmen | | Runs | Balls | SR | 4s | 6s |
| David Warner | run out (Hardik Pandya) | 36 | 34 | 105.88 | 2 | 2 |
| Jonny Bairstow | hit wicket b Krunal Pandya | 43 | 22 | 195.45 | 3 | 4 |
| Manish Pandey | c Kieron Pollard b Rahul Chahar | 2 | 7 | 28.57 | 0 | 0 |
| Virat Singh | c Suryakumar Yadav b Rahul Chahar | 11 | 12 | 91.66 | 1 | 0 |
| Vijay Shankar | c Suryakumar Yadav b Jasprit Bumrah | 28 | 25 | 112 | 0 | 2 |
| Abhishek Sharma | c Adam Milne b Rahul Chahar | 2 | 4 | 50 | 0 | 0 |
| Abdul Samad | run out (Hardik Pandya) | 7 | 8 | 87.5 | 1 | 0 |
| Rashid Khan | lbw Trent Boult | 0 | 1 | 0 | 0 | 0 |
| Bhuvneshwar Kumar | b Trent Boult | 1 | 2 | 50 | 0 | 0 |
| Mujeeb Ur Rahman | NOT OUT | 1 | 1 | 100 | 0 | 0 |
| Khaleel Ahmed | b Trent Boult | 1 | 2 | 50 | 0 | 0 |
| EXTRAS | (nb 0, w 2, b 0, lb 3, pen 0) | 5 | | | | |
| TOTAL | (All out; 19.4 overs) | 137 | | | | |
| | | | | | |
| --- | --- | --- | --- | --- | --- |
| Bowler | O | R | W | Econ | Dots |
| Trent Boult | 3.4 | 28 | 3 | 7.63 | 12 |
| Jasprit Bumrah | 4 | 14 | 1 | 3.5 | 12 |
| Adam Milne | 3 | 33 | 0 | 11 | 4 |
| Krunal Pandya | 3 | 30 | 1 | 10 | 8 |
| Rahul Chahar | 4 | 19 | 3 | 4.75 | 13 |
| Kieron Pollard | 2 | 10 | 0 | 5 | 5 |
FALL OF WICKETS
1-67 (Bairstow, 7.2 ov) ,2-71 (Pandey, 8.6 ov) ,3-90 (Warner, 11.3 ov) ,4-102 (Singh, 14.1 ov) ,5-104 (Sharma, 14.5 ov) ,6-129 (Samad, 17.4 ov) ,7-130 (Khan, 17.6 ov) ,8-134 (Shankar, 18.5 ov) ,9-135 (Kumar, 19.1 ov) ,10-137 (Ahmed, 19.4 ov)