Match 12: CSK vs RR
The Chennai Super Kings (CSK) continued their winning streak by defeating the Rajasthan Royals (RR) by 45 runs at the Wankhede stadium in Mumbai on Monday. This defeat puts Rajasthan at the seventh position in the IPL points table followed only by the Punjab Kings.
The Rajasthan Royals won the toss and put CSK to ball on what seemed to be a turning track. However, Faf du Plessis and Moeen Ali gave the Super Kings the start they needed with their contributions of 33 of 17 deliveries and 26 of 20 deliveries respectively. Bursts of runs provided by Ambati Rayudu and D.J. Bravo took CSK to a competitive target of 188 at the end of the first innings. Chetan Sakariya's 3/36 and Chris Morris' 2/33 spells are definitely praise-worthy.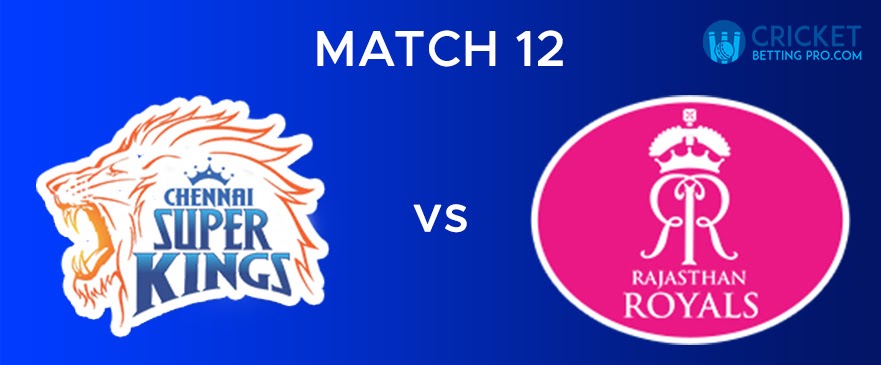 In response, the Royals got off to a great start, thanks to Jos Buttler's attack. His terrific form was brought to a halt by Ravindra Jadeja who dismissed him 1 run short of his half-century with an absolute gem of a delivery. The Royals kept losing wickets to the CSK spinners with Moeen Ali being the pick of the bowlers. His bowling figures were 3/7 in 3 overs. Late flourishes from Jaydev Unadkat and Rahul Tewatia brought the Royal to a respectable total of 143 for 9 at the end of 20 overs.
Moeen Ali bagged the player of the match due to this outstanding performance with the bat and the ball.
Match Info:
Match:CSK vs RR, 12th Match, Indian Premier League 2021
Date:Monday, April 19, 2021
Toss:Rajasthan Royals won the toss and opt to bowl
Time:7:30 PM
Venue:Wankhede Stadium, Mumbai
Umpires:Paul Reiffel, Virender Sharma
Third Umpire:Yeshwant Barde
Match Referee:Prakash Bhatt
Chennai Super Kings Squad:
Playing:Ruturaj Gaikwad, Faf du Plessis, Moeen Ali, Suresh Raina, Ambati Rayudu, Ravindra Jadeja, MS Dhoni (c & wk), Sam Curran, Dwayne Bravo, Shardul Thakur, Deepak Chahar
Bench:Robin Uthappa, Cheteshwar Pujara, Karn Sharma, Imran Tahir, Krishnappa Gowtham, Lungi Ngidi, Mitchell Santner, Ravisrinivasan Sai Kishore, Hari Nishanth, N Jagadeesan, KM Asif, Harishankar Reddy, Bhagath Varma, Jason Behrendorff
Rajasthan Royals Squad:
Playing:Jos Buttler, Manan Vohra, Sanju Samson (c & wk), Shivam Dube, David Miller, Riyan Parag, Rahul Tewatia, Chris Morris, Jaydev Unadkat, Chetan Sakariya, Mustafizur Rahman
Bench:Andrew Tye, Shreyas Gopal, Liam Livingstone, KC Cariappa, Mahipal Lomror, Mayank Markande, Anuj Rawat, Kartik Tyagi, Kuldip Yadav, Yashasvi Jaiswal, Akash Singh
CHENNAI SUPER KINGS INNINGS
(RUN RATE: 9.40)
| | | | | | | |
| --- | --- | --- | --- | --- | --- | --- |
| Batsmen | | Runs | Balls | SR | 4s | 6s |
| Ruturaj Gaikwad | c Shivam Dube b Mustafizur Rahman | 10 | 13 | 76.92 | 1 | 0 |
| Faf du Plessis | c Riyan Parag b Chris Morris | 33 | 17 | 194.11 | 4 | 2 |
| Moeen Ali | c Riyan Parag b Rahul Tewatia | 26 | 20 | 130 | 1 | 2 |
| Suresh Raina | c Chris Morris b Chetan Sakariya | 18 | 15 | 120 | 1 | 1 |
| Ambati Rayudu | c Riyan Parag b Chetan Sakariya | 27 | 17 | 158.82 | 0 | 3 |
| Ravindra Jadeja | c Sanju Samson b Chris Morris | 8 | 7 | 114.28 | 1 | 0 |
| MS Dhoni | c Jos Buttler b Chetan Sakariya | 18 | 17 | 105.88 | 2 | 0 |
| Sam Curran | run out (Mustafizur Rahman/Sanju Samson) | 13 | 6 | 216.66 | 0 | 1 |
| Dwayne Bravo | NOT OUT | 20 | 8 | 250 | 2 | 1 |
| Shardul Thakur | run out (Sanju Samson/Mustafizur Rahman) | 1 | 1 | 100 | 0 | 0 |
| Deepak Chahar | NOT OUT | 0 | 0 | 0 | 0 | 0 |
| EXTRAS | (nb 1, w 8, b 1, lb 4, pen 0) | 14 | | | | |
| TOTAL | (9 wickets; 20 overs) | 188 | | | | |
| | | | | | |
| --- | --- | --- | --- | --- | --- |
| Bowler | O | R | W | Econ | Dots |
| Jaydev Unadkat | 4 | 40 | 0 | 10 | 7 |
| Chetan Sakariya | 4 | 36 | 3 | 9 | 9 |
| Mustafizur Rahman | 4 | 37 | 1 | 9.25 | 9 |
| Chris Morris | 4 | 33 | 2 | 8.25 | 11 |
| Rahul Tewatia | 3 | 21 | 1 | 7 | 8 |
| Riyan Parag | 1 | 16 | 0 | 16 | 2 |
FALL OF WICKETS
1-25 (Gaikwad, 3.5 ov) ,2-45 (du Plessis, 5.4 ov) ,3-78 (Ali, 9.2 ov) ,4-123 (Rayudu, 13.2 ov) ,5-125 (Raina, 13.5 ov) ,6-147 (Dhoni, 17.2 ov) ,7-163 (Jadeja, 18.3 ov) ,8-174 (Curran, 19.1 ov) ,9-180 (Thakur, 19.4 ov)
RAJASTHAN ROYALS INNINGS
(RUN RATE: 7.15)
| | | | | | | |
| --- | --- | --- | --- | --- | --- | --- |
| Batsmen | | Runs | Balls | SR | 4s | 6s |
| Jos Buttler | b Ravindra Jadeja | 49 | 35 | 140 | 5 | 2 |
| Manan Vohra | c Ravindra Jadeja b Sam Curran | 14 | 11 | 127.27 | 1 | 1 |
| Sanju Samson | c Dwayne Bravo b Sam Curran | 1 | 5 | 20 | 0 | 0 |
| Shivam Dube | lbw Ravindra Jadeja | 17 | 20 | 85 | 2 | 0 |
| David Miller | lbw Moeen Ali | 2 | 5 | 40 | 0 | 0 |
| Riyan Parag | c Ravindra Jadeja b Moeen Ali | 3 | 7 | 42.85 | 0 | 0 |
| Rahul Tewatia | c Ruturaj Gaikwad b Dwayne Bravo | 20 | 15 | 133.33 | 0 | 2 |
| Chris Morris | c Ravindra Jadeja b Moeen Ali | 0 | 2 | 0 | 0 | 0 |
| Jaydev Unadkat | c Ravindra Jadeja b Shardul Thakur | 24 | 17 | 141.17 | 2 | 1 |
| Chetan Sakariya | NOT OUT | 0 | 0 | 0 | 0 | 0 |
| Mustafizur Rahman | NOT OUT | 0 | 4 | 0 | 0 | 0 |
| EXTRAS | (nb 1, w 8, b 1, lb 3, pen 0) | 13 | | | | |
| TOTAL | (9 wickets; 20 overs) | 143 | | | | |
| | | | | | |
| --- | --- | --- | --- | --- | --- |
| Bowler | O | R | W | Econ | Dots |
| Deepak Chahar | 3 | 32 | 0 | 10.66 | 7 |
| Sam Curran | 4 | 24 | 2 | 6 | 14 |
| Shardul Thakur | 3 | 20 | 1 | 6.66 | 9 |
| Ravindra Jadeja | 4 | 28 | 2 | 7 | 9 |
| Dwayne Bravo | 3 | 28 | 1 | 9.33 | 8 |
| Moeen Ali | 3 | 7 | 3 | 2.33 | 11 |
FALL OF WICKETS
1-30 (Vohra, 3.5 ov) ,2-45 (Samson, 5.5 ov) ,3-87 (Buttler, 11.1 ov) ,4-90 (Dube, 11.6 ov) ,5-92 (Miller, 12.5 ov) ,6-95 (Parag, 14.1 ov) ,7-95 (Morris, 14.3 ov) ,8-137 (Tewatia, 18.6 ov) ,9-143 (Unadkat, 19.2 ov)