Match 13: MI vs DC
The thirteenth match of the fourteenth season took place on Tuesday between the defending champions, Mumbai Indians, and the Delhi Capitals at the M.A. Chidambaram Stadium in Chennai. The latter emerged victorious by 6 wickets and 5 balls to spare.
Mumbai Indians chose to bat after winning the toss and Rohit Sharma went after the bowling attack immediately smashing boundaries at regular intervals. However, he was overpowered by Amit Mishra's leg-spin and the turning wicket and got dismissed for 44. Ishan Kishan and Suryakumar Yadav tried to stabilize the innings with their 26 and 24 respectively but were dismissed by the Capitals' spinners. The innings ended with Yadav registering the best performance by the Delhi Capital with his 4/24 and restricting Mumbai Indians to a paltry 137/9.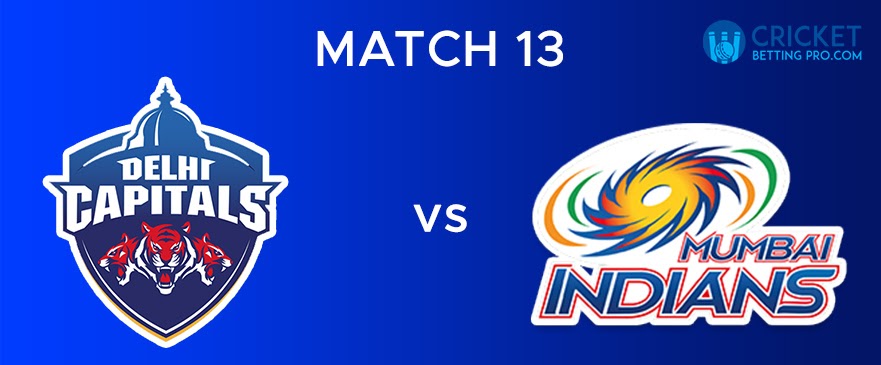 In response, the Delhi Capitals got off to a stable start with Shikhar Dhawan leading the way. His 45 of 42 balls was only supported by Steve Smith and Lalit Yadav taking the Capitals close to the victory. With 5 needed from 6 balls, Shimron Hetmyer scored a key boundary which sealed the victory for Delhi. The winning runs came off a no-ball with 5 balls to spare handing Mumbai their second defeat.
Match Info:
Match:DC vs MI, 13th Match, Indian Premier League 2021
Date:Tuesday, April 20, 2021
Toss:Mumbai Indians won the toss and opt to bat
Time:7:30 PM
Venue:MA Chidambaram Stadium, Chennai
Umpires:Chris Gaffaney, Chettithody Shamshuddin
Third Umpire:Ulhas Gandhe
Match Referee:Vengalil Narayan Kutty
Delhi Capitals Squad:
Playing:Prithvi Shaw, Shikhar Dhawan, Steven Smith, Rishabh Pant (c & wk), Marcus Stoinis, Shimron Hetmyer, Lalit Yadav, Ravichandran Ashwin, Kagiso Rabada, Amit Mishra, Avesh Khan
Bench:Chris Woakes, Lukman Meriwala, Ishant Sharma, Ajinkya Rahane, Umesh Yadav, Aniruddha Joshi, Sam Billings, Tom Curran, Praveen Dubey, Anrich Nortje, Vishnu Vinod, Manimaran Siddharth, Shams Mulani, Ripal Patel
Mumbai Indians Squad:
Playing:Quinton de Kock (wk), Rohit Sharma (c), Suryakumar Yadav, Ishan Kishan, Hardik Pandya, Kieron Pollard, Krunal Pandya, Rahul Chahar, Jayant Yadav, Jasprit Bumrah, Trent Boult
Bench:Adam Milne, Piyush Chawla, Dhawal Kulkarni, Saurabh Tiwary, Aditya Tare, Chris Lynn, Nathan Coulter-Nile, James Neesham, Anmolpreet Singh, Anukul Roy, Mohsin Khan, Arjun Tendulkar, Marco Jansen, Yudhvir Singh
MUMBAI INDIANS INNINGS
(RUN RATE: 6.85)
| | | | | | | |
| --- | --- | --- | --- | --- | --- | --- |
| Batsmen | | Runs | Balls | SR | 4s | 6s |
| Rohit Sharma | c Steve Smith b Amit Mishra | 44 | 30 | 146.66 | 3 | 3 |
| Quinton de Kock | c Rishabh Pant b Marcus Stoinis | 2 | 4 | 50 | 0 | 0 |
| Suryakumar Yadav | c Rishabh Pant b Avesh Khan | 24 | 15 | 160 | 4 | 0 |
| Ishan Kishan | b Amit Mishra | 26 | 28 | 92.85 | 1 | 1 |
| Hardik Pandya | c Steve Smith b Amit Mishra | 0 | 1 | 0 | 0 | 0 |
| Krunal Pandya | b Lalit Yadav | 1 | 5 | 20 | 0 | 0 |
| Kieron Pollard | lbw Amit Mishra | 2 | 5 | 40 | 0 | 0 |
| Jayant Yadav | c & b Kagiso Rabada | 23 | 22 | 104.54 | 1 | 0 |
| Rahul Chahar | c Rishabh Pant b Avesh Khan | 6 | 6 | 100 | 1 | 0 |
| Jasprit Bumrah | NOT OUT | 3 | 3 | 100 | 0 | 0 |
| Trent Boult | NOT OUT | 1 | 1 | 100 | 0 | 0 |
| EXTRAS | (nb 0, w 0, b 0, lb 5, pen 0) | 5 | | | | |
| TOTAL | (9 wickets; 20 overs) | 137 | | | | |
| | | | | | |
| --- | --- | --- | --- | --- | --- |
| Bowler | O | R | W | Econ | Dots |
| Marcus Stoinis | 3 | 20 | 1 | 6.66 | 6 |
| Ravichandran Ashwin | 4 | 31 | 0 | 7.75 | 12 |
| Kagiso Rabada | 3 | 25 | 1 | 8.33 | 7 |
| Amit Mishra | 4 | 24 | 4 | 6 | 11 |
| Avesh Khan | 2 | 15 | 2 | 7.5 | 5 |
| Lalit Yadav | 4 | 17 | 1 | 4.25 | 7 |
FALL OF WICKETS
1-9 (de Kock, 2.1 ov) ,2-67 (Yadav, 6.6 ov) ,3-76 (Sharma, 8.4 ov) ,4-77 (Pandya, 8.6 ov) ,5-81 (Pandya, 10.4 ov) ,6-84 (Pollard, 11.5 ov) ,7-123 (Kishan, 17.3 ov) ,8-129 (Yadav, 18.5 ov) ,9-135 (Chahar, 19.4 ov)
DELHI CAPITALS INNINGS
(RUN RATE: 7.20)
| | | | | | | |
| --- | --- | --- | --- | --- | --- | --- |
| Batsmen | | Runs | Balls | SR | 4s | 6s |
| Prithvi Shaw | c & b Jayant Yadav | 7 | 5 | 140 | 1 | 0 |
| Shikhar Dhawan | c Krunal Pandya b Rahul Chahar | 45 | 42 | 107.14 | 5 | 1 |
| Steve Smith | lbw Kieron Pollard | 33 | 29 | 113.79 | 4 | 0 |
| Lalit Yadav | NOT OUT | 22 | 25 | 88 | 1 | 0 |
| Rishabh Pant | c Krunal Pandya b Jasprit Bumrah | 7 | 8 | 87.5 | 1 | 0 |
| Shimron Hetmyer | NOT OUT | 14 | 9 | 155.55 | 2 | 0 |
| EXTRAS | (nb 3, w 4, b 0, lb 3, pen 0) | 10 | | | | |
| TOTAL | (4 wickets; 19.1 overs) | 138 | | | | |
| DID NOT BAT: | Marcus Stoinis ,Ravichandran Ashwin ,Kagiso Rabada ,Amit Mishra ,Avesh Khan | | | | | |
| | | | | | |
| --- | --- | --- | --- | --- | --- |
| Bowler | O | R | W | Econ | Dots |
| Trent Boult | 4 | 23 | 0 | 5.75 | 13 |
| Jayant Yadav | 4 | 25 | 1 | 6.25 | 10 |
| Jasprit Bumrah | 4 | 32 | 1 | 8 | 7 |
| Krunal Pandya | 2 | 17 | 0 | 8.5 | 2 |
| Rahul Chahar | 4 | 29 | 1 | 7.25 | 9 |
| Kieron Pollard | 1.1 | 9 | 1 | 7.71 | 3 |
FALL OF WICKETS
1-11 (Shaw, 1.3 ov) ,2-64 (Smith, 9.2 ov) ,3-100 (Dhawan, 14.5 ov) ,4-115 (Pant, 16.5 ov)