Match 22: DC vs RCB
Royal Challengers Bangalore (RCB) made a grand victory over Delhi Capitals (DC) in Match 22 of the VIVO Indian Premier League (IPL) 2021 at the Narendra Modi Stadium in Ahmedabad on Tuesday.
AB de Villiers scored a match-winning 75* that instigated RCB to make a noteworthy total before the bowlers defended the target in a final-over thriller. With chasing a challenging total of 171, DC openers, Prithvi Shaw and Shikhar Dhawan made a swift start, scoring 22 off the first two overs after Shaw, backed by his wonderful timing, smashed three fours off Mohammed Siraj.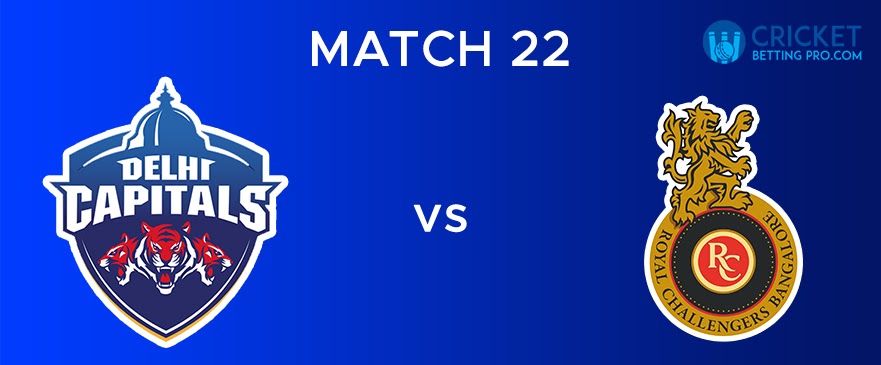 Further, RCB capitalised on the two early wickets and put a little pressure on the DC pair with dot balls. Harshal Patel bowled the eighth over and he managed to dismiss Shaw, who tried to chase a wide delivery outside off stumps and edged it to de Villiers behind the stumps.
DC, on the other hand, scored 11 in the penultimate over after Pant got a timely four and DC required 14 off the final over. RCB scored 11 off the next over after Patidar knocked Mishra for a six down the ground. Finally, de Villiers scored 23 runs off the last over bowled by Stonis hitting 3 sixes in 3 separate parts of the ground thus enabling RCB to make a victory.
Match Info:
Match:DC vs RCB, 22nd Match, Indian Premier League 2021
Date:Tuesday, April 27, 2021
Toss:Delhi Capitals won the toss and opt to bowl
Time:7:30 PM
Venue:Narendra Modi Stadium, Ahmedabad
Umpires:Sundaram Ravi, Virender Sharma
Third Umpire:Anil Kumar Chaudhary
Match Referee:Manu Nayyar
Delhi Capitals Squad:
Playing:Prithvi Shaw, Shikhar Dhawan, Rishabh Pant (c & wk), Steven Smith, Shimron Hetmyer, Marcus Stoinis, Axar Patel, Amit Mishra, Kagiso Rabada, Ishant Sharma, Avesh Khan
Bench:Lalit Yadav, Ajinkya Rahane, Umesh Yadav, Chris Woakes, Aniruddha Joshi, Sam Billings, Lukman Meriwala, Tom Curran, Praveen Dubey, Anrich Nortje, Vishnu Vinod, Manimaran Siddharth, Shams Mulani, Ripal Patel
Royal Challengers Bangalore Squad:
Playing:Virat Kohli (c), Devdutt Padikkal, Rajat Patidar, Glenn Maxwell, AB de Villiers (wk), Washington Sundar, Daniel Sams, Kyle Jamieson, Harshal Patel, Yuzvendra Chahal, Mohammed Siraj
Bench:Sachin Baby, Srikar Bharat, Pavan Deshpande, Mohammed Azharuddeen, Finn Allen, Suyash Prabhudessai, Shahbaz Ahmed, Navdeep Saini, Daniel Christian
ROYAL CHALLENGERS BANGALORE INNINGS
(RUN RATE: 8.55)
| | | | | | | |
| --- | --- | --- | --- | --- | --- | --- |
| Batsmen | | Runs | Balls | SR | 4s | 6s |
| Virat Kohli | b Avesh Khan | 12 | 11 | 109.09 | 2 | 0 |
| Devdutt Padikkal | b Ishant Sharma | 17 | 14 | 121.42 | 3 | 0 |
| Rajat Patidar | c Steve Smith b Axar Patel | 31 | 22 | 140.9 | 0 | 2 |
| Glenn Maxwell | c Steve Smith b Amit Mishra | 25 | 20 | 125 | 1 | 2 |
| AB de Villiers | NOT OUT | 75 | 42 | 178.57 | 3 | 5 |
| Washington Sundar | c & b Kagiso Rabada | 6 | 9 | 66.66 | 0 | 0 |
| Daniel Sams | NOT OUT | 3 | 2 | 150 | 0 | 0 |
| EXTRAS | (nb 0, w 2, b 0, lb 0, pen 0) | 2 | | | | |
| TOTAL | (5 wickets; 20 overs) | 171 | | | | |
| DID NOT BAT: | Kyle Jamieson ,Harshal Patel ,Mohammed Siraj ,Yuzvendra Chahal | | | | | |
| | | | | | |
| --- | --- | --- | --- | --- | --- |
| Bowler | O | R | W | Econ | Dots |
| Ishant Sharma | 4 | 26 | 1 | 6.5 | 11 |
| Kagiso Rabada | 4 | 38 | 1 | 9.5 | 6 |
| Avesh Khan | 4 | 24 | 1 | 6 | 11 |
| Amit Mishra | 3 | 27 | 1 | 9 | 2 |
| Axar Patel | 4 | 33 | 1 | 8.25 | 5 |
| Marcus Stoinis | 1 | 23 | 0 | 23 | 1 |
FALL OF WICKETS
1-30 (Kohli, 3.6 ov) ,2-30 (Padikkal, 4.1 ov) ,3-60 (Maxwell, 8.3 ov) ,4-114 (Patidar, 14.5 ov) ,5-139 (Sundar, 17.6 ov)
DELHI CAPITALS INNINGS
(RUN RATE: 8.50)
| | | | | | | |
| --- | --- | --- | --- | --- | --- | --- |
| Batsmen | | Runs | Balls | SR | 4s | 6s |
| Prithvi Shaw | c AB de Villiers b Harshal Patel | 21 | 18 | 116.66 | 3 | 0 |
| Shikhar Dhawan | c Yuzvendra Chahal b Kyle Jamieson | 6 | 7 | 85.71 | 1 | 0 |
| Steve Smith | c AB de Villiers b Mohammed Siraj | 4 | 5 | 80 | 1 | 0 |
| Rishabh Pant | NOT OUT | 58 | 48 | 120.83 | 6 | 0 |
| Marcus Stoinis | c AB de Villiers b Harshal Patel | 22 | 17 | 129.41 | 3 | 0 |
| Shimron Hetmyer | NOT OUT | 53 | 25 | 212 | 2 | 4 |
| EXTRAS | (nb 0, w 2, b 0, lb 4, pen 0) | 6 | | | | |
| TOTAL | (4 wickets; 20 overs) | 170 | | | | |
| DID NOT BAT: | Axar Patel ,Kagiso Rabada ,Amit Mishra ,Ishant Sharma ,Avesh Khan | | | | | |
| | | | | | |
| --- | --- | --- | --- | --- | --- |
| Bowler | O | R | W | Econ | Dots |
| Daniel Sams | 2 | 15 | 0 | 7.5 | 4 |
| Mohammed Siraj | 4 | 44 | 1 | 11 | 5 |
| Kyle Jamieson | 4 | 32 | 1 | 8 | 11 |
| Washington Sundar | 4 | 28 | 0 | 7 | 5 |
| Harshal Patel | 4 | 37 | 2 | 9.25 | 5 |
| Yuzvendra Chahal | 2 | 10 | 0 | 5 | 5 |
FALL OF WICKETS
1-23 (Dhawan, 2.3 ov) ,2-28 (Smith, 3.3 ov) ,3-47 (Shaw, 7.2 ov) ,4-92 (Stoinis, 12.4 ov)