Match 30: CSK vs MI
Chennai Super Kings (CSK) defeated Mumbai Indians (MI) by 20 runs at Dubai International Stadium, Dubai. CSK kicked off a terrible start to their innings after skipper MS Dhoni won the toss and chose to bat first earlier. They rebounded due to opener Ruturaj Gaikwad's unbeaten innings of 88, which helped them to 156/6.
The 81-run partnership between Gaikwad and Jadeja, however, was ended when Jasprit Bumrah, who was playing his 100th IPL game, sent Jadeja to the dugout. After the dismissal of Jadeja, Dwayne Bravo took the charge and joined Gaikwad, and the two changed gears in their style. In the last over, the pair went after Boult, smashing 24 runs, with Bravo hitting two sixes and Gaikwad hitting a six and a four apiece.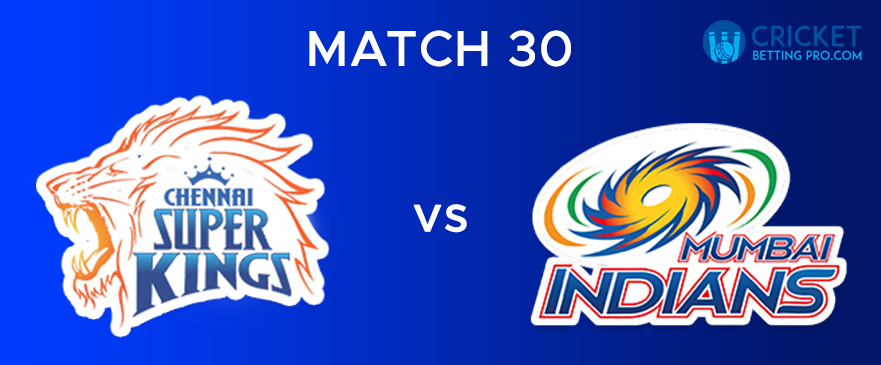 However, Bravo was dismissed in the last over after an eight-ball 23-run cameo, Gaikwad remained in the game till the finish, smashing a four and a six in the 20th over to help CSK reach 156/6.
MI scored 136/8 in 20 overs, with Saurabh Tiwary leading the charge with 50 not out. Deepak Chahar struck twice in the Powerplay overs to end with 2/19, while Dwayne Bravo took 3/25. This marks CSK's sixth victory of the season, tying them with Delhi Capitals for the most points with 12 each. Super Kings, on the other hand, will seize the lead owing to a higher net run rate.
Match Info:
Match:CSK vs MI, 30th Match, Indian Premier League 2021
Date:Sunday, September 19, 2021
Toss:Chennai Super Kings won the toss and opt to bat
Time:7:30 PM
Venue:Dubai International Cricket Stadium, Dubai
Umpires:Nitin Menon, Richard Illingworth
Third Umpire:Anil Kumar Chaudhary
Match Referee:Javagal Srinath
Chennai Super Kings Squad:
Playing:Faf du Plessis, Ruturaj Gaikwad, Moeen Ali, Suresh Raina, Ambati Rayudu, MS Dhoni (c & wk), Ravindra Jadeja, Dwayne Bravo, Shardul Thakur, Deepak Chahar, Josh Hazlewood
Bench:Lungi Ngidi, Robin Uthappa, Karn Sharma, Jason Behrendorff, Krishnappa Gowtham, Mitchell Santner, Ravisrinivasan Sai Kishore, Hari Nishanth, N Jagadeesan, Cheteshwar Pujara, KM Asif, Harishankar Reddy, Bhagath Varma, Imran Tahir
Mumbai Indians Squad:
Playing:Quinton de Kock (wk), Ishan Kishan, Anmolpreet Singh, Suryakumar Yadav, Kieron Pollard (c), Saurabh Tiwary, Krunal Pandya, Adam Milne, Rahul Chahar, Jasprit Bumrah, Trent Boult
Bench:Hardik Pandya, Nathan Coulter-Nile, Jayant Yadav, Chris Lynn, Piyush Chawla, Dhawal Kulkarni, Aditya Tare, Roosh Kalaria, James Neesham, Anukul Roy, Arjun Tendulkar, Marco Jansen, Yudhvir Singh, Rohit Sharma
CHENNAI SUPER KINGS INNINGS
(RUN RATE: 7.80)
| | | | | | | |
| --- | --- | --- | --- | --- | --- | --- |
| Batsmen | | Runs | Balls | SR | 4s | 6s |
| Ruturaj Gaikwad | NOT OUT | 88 | 58 | 151.72 | 9 | 4 |
| Faf du Plessis | c Adam Milne b Trent Boult | 0 | 3 | 0 | 0 | 0 |
| Moeen Ali | c Saurabh Tiwary b Adam Milne | 0 | 3 | 0 | 0 | 0 |
| Ambati Rayudu | retired hurt | 0 | 3 | 0 | 0 | 0 |
| Suresh Raina | c Rahul Chahar b Trent Boult | 4 | 6 | 66.66 | 1 | 0 |
| MS Dhoni | c Trent Boult b Adam Milne | 3 | 5 | 60 | 0 | 0 |
| Ravindra Jadeja | c Kieron Pollard b Jasprit Bumrah | 26 | 33 | 78.78 | 1 | 0 |
| Dwayne Bravo | c Krunal Pandya b Jasprit Bumrah | 23 | 8 | 287.5 | 0 | 3 |
| Shardul Thakur | NOT OUT | 1 | 1 | 100 | 0 | 0 |
| EXTRAS | (nb 0, w 8, b 0, lb 3, pen 0) | 11 | | | | |
| TOTAL | (6 wickets; 20 overs) | 156 | | | | |
DID NOT BAT:
Deepak Chahar ,Josh Hazlewood
| | | | | | |
| --- | --- | --- | --- | --- | --- |
| Bowler | O | R | W | Econ | Dots |
| Trent Boult | 4 | 35 | 2 | 8.75 | 13 |
| Adam Milne | 4 | 21 | 2 | 5.25 | 14 |
| Jasprit Bumrah | 4 | 33 | 2 | 8.25 | 11 |
| Kieron Pollard | 2 | 15 | 0 | 7.5 | 4 |
| Rahul Chahar | 4 | 22 | 0 | 5.5 | 10 |
| Krunal Pandya | 2 | 27 | 0 | 13.5 | 2 |
FALL OF WICKETS
1-1 (du Plessis, 0.5 ov) ,2-2 (Ali, 1.3 ov) ,2-3 (Rayudu, 1.6 ov) ,3-7 (Raina, 2.6 ov) ,4-24 (Dhoni, 5.6 ov) ,5-105 (Jadeja, 16.4 ov) ,6-144 (Bravo, 19.2 ov)
MUMBAI INDIANS INNINGS
(RUN RATE: 6.80)
| | | | | | | |
| --- | --- | --- | --- | --- | --- | --- |
| Batsmen | | Runs | Balls | SR | 4s | 6s |
| Quinton de Kock | lbw Deepak Chahar | 17 | 12 | 141.66 | 3 | 0 |
| Anmolpreet Singh | b Deepak Chahar | 16 | 14 | 114.28 | 2 | 1 |
| Suryakumar Yadav | c Faf du Plessis b Shardul Thakur | 3 | 7 | 42.85 | 0 | 0 |
| Ishan Kishan | c Suresh Raina b Dwayne Bravo | 11 | 10 | 110 | 1 | 0 |
| Saurabh Tiwary | NOT OUT | 50 | 40 | 125 | 5 | 0 |
| Kieron Pollard | lbw Josh Hazlewood | 15 | 14 | 107.14 | 1 | 1 |
| Krunal Pandya | run out (Dwayne Bravo/MS Dhoni) | 4 | 5 | 80 | 0 | 0 |
| Adam Milne | c sub (Krishnappa Gowtham) b Dwayne Bravo | 15 | 15 | 100 | 0 | 1 |
| Rahul Chahar | c Suresh Raina b Dwayne Bravo | 0 | 1 | 0 | 0 | 0 |
| Jasprit Bumrah | NOT OUT | 1 | 2 | 50 | 0 | 0 |
| EXTRAS | (nb 0, w 4, b 0, lb 0, pen 0) | 4 | | | | |
| TOTAL | (8 wickets; 20 overs) | 136 | | | | |
DID NOT BAT:
Trent Boult
| | | | | | |
| --- | --- | --- | --- | --- | --- |
| Bowler | O | R | W | Econ | Dots |
| Deepak Chahar | 4 | 19 | 2 | 4.75 | 13 |
| Josh Hazlewood | 4 | 34 | 1 | 8.5 | 8 |
| Shardul Thakur | 4 | 29 | 1 | 7.25 | 9 |
| Moeen Ali | 3 | 16 | 0 | 5.33 | 4 |
| Dwayne Bravo | 4 | 25 | 3 | 6.25 | 11 |
| Ravindra Jadeja | 1 | 13 | 0 | 13 | 1 |
FALL OF WICKETS
1-18 (de Kock, 2.2 ov) ,2-35 (Singh, 4.6 ov) ,3-37 (Yadav, 5.4 ov) ,4-58 (Kishan, 9.2 ov) ,5-87 (Pollard, 13.1 ov) ,6-94 (Pandya, 14.4 ov) ,7-134 (Milne, 19.2 ov) ,8-135 (Chahar, 19.4 ov)