Match 6: SRH vs RCB
Royal Challengers Bangalore (RCB) successfully won their second consecutive game after defeating the Sunrisers Hyderabad (SRH) in Match 6 of the VIVO Indian Premier League (IPL) 2021 at the M. A. Chidambaram Stadium in Chennai on Wednesday.
RCB made an excellent comeback by defending a total of 149 against SRH. The match began with SRH chasing a total of 150. David Warner and Wriddhiman Saha made a very cautious start, scoring 13 in the first two overs.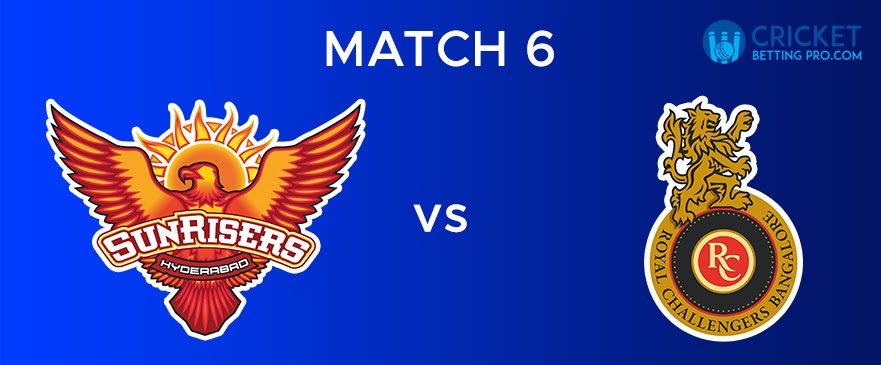 Further, the fifty-run partnership was up between the two teams as RCB continued to look out for a breakthrough. Although SRH was in full control they had to score 42 from the final five overs.
RCB skipper Kohli on the other hand handed the ball to Shahbaz Ahmed in the 17th over and this turned out to be a note-worthy move as the left-arm spinner scalped 3 wickets in an over. Finally, the pressure was built on SRH as they ended up losing two wickets. At first, Harshal Patel got rid of Vijay Shankar, and later, Siraj dismissed Jason Holder after he holed out deep in the penultimate over.
Harshal Patel had 16 runs to defend in the final over and he bowled a no-ball, keeping himself calm and composed thus helping RCB make a glorious win.
Match Info:
Match:SRH vs RCB, 6th Match, Indian Premier League 2021
Date:Wednesday, April 14, 2021
Toss:Sunrisers Hyderabad won the toss and opt to bowl
Time:7:30 PM
Venue:MA Chidambaram Stadium, Chennai
Umpires:Nitin Menon, Ulhas Gandhe
Third Umpire:Chettithody Shamshuddin
Match Referee:Vengalil Narayan Kutty
Sunrisers Hyderabad Squad:
Playing:Wriddhiman Saha (wk), David Warner (c), Manish Pandey, Jonny Bairstow, Vijay Shankar, Jason Holder, Abdul Samad, Rashid Khan, Bhuvneshwar Kumar, T Natarajan, Shahbaz Nadeem
Bench:Kedar Jadhav, Kane Williamson, Shreevats Goswami, Siddarth Kaul, Jason Roy, Virat Singh, Basil Thampi, Jagadeesha Suchith, Khaleel Ahmed, Mujeeb Ur Rahman, Sandeep Sharma, Abhishek Sharma, Priyam Garg, Mohammad Nabi
Royal Challengers Bangalore Squad:
Playing:Virat Kohli (c), Devdutt Padikkal, Shahbaz Ahmed, Glenn Maxwell, AB de Villiers (wk), Washington Sundar, Daniel Christian, Kyle Jamieson, Harshal Patel, Mohammed Siraj, Yuzvendra Chahal
Bench:Kane Richardson, Adam Zampa, Sachin Baby, Srikar Bharat, Navdeep Saini, Pavan Deshpande, Mohammed Azharuddeen, Finn Allen, Suyash Prabhudessai, Daniel Sams, Rajat Patidar
ROYAL CHALLENGERS BANGALORE INNINGS
(RUN RATE: 7.45)
| | | | | | | |
| --- | --- | --- | --- | --- | --- | --- |
| Batsmen | | Runs | Balls | SR | 4s | 6s |
| Virat Kohli | c Vijay Shankar b Jason Holder | 33 | 29 | 113.79 | 4 | 0 |
| Devdutt Padikkal | c Shahbaz Nadeem b Bhuvneshwar Kumar | 11 | 13 | 84.61 | 2 | 0 |
| Shahbaz Ahmed | c Rashid Khan b Shahbaz Nadeem | 14 | 10 | 140 | 0 | 1 |
| Glenn Maxwell | c Wriddhiman Saha b Jason Holder | 59 | 41 | 143.9 | 5 | 3 |
| AB de Villiers | c David Warner b Rashid Khan | 1 | 5 | 20 | 0 | 0 |
| Washington Sundar | c Manish Pandey b Rashid Khan | 8 | 11 | 72.72 | 1 | 0 |
| Dan Christian | c Wriddhiman Saha b T Natarajan | 1 | 2 | 50 | 0 | 0 |
| Kyle Jamieson | c Manish Pandey b Jason Holder | 12 | 9 | 133.33 | 2 | 0 |
| Harshal Patel | NOT OUT | 0 | 0 | 0 | 0 | 0 |
| EXTRAS | (nb 0, w 7, b 0, lb 3, pen 0) | 10 | | | | |
| TOTAL | (8 wickets; 20 overs) | 149 | | | | |
| DID NOT BAT: | Mohammed Siraj ,Yuzvendra Chahal | | | | | |
| | | | | | |
| --- | --- | --- | --- | --- | --- |
| Bowler | O | R | W | Econ | Dots |
| Bhuvneshwar Kumar | 4 | 30 | 1 | 7.5 | 10 |
| Jason Holder | 4 | 30 | 3 | 7.5 | 13 |
| Shahbaz Nadeem | 4 | 36 | 1 | 9 | 9 |
| T Natarajan | 4 | 32 | 1 | 8 | 7 |
| Rashid Khan | 4 | 18 | 2 | 4.5 | 10 |
FALL OF WICKETS
1-19 (Padikkal, 2.5 ov) ,2-47 (Ahmed, 6.1 ov) ,3-91 (Kohli, 12.1 ov) ,4-95 (de Villiers, 13.4 ov) ,5-105 (Sundar, 15.5 ov) ,6-109 (Christian, 16.4 ov) ,7-136 (Jamieson, 19.1 ov) ,8-149 (Maxwell, 19.6 ov)
SUNRISERS HYDERABAD INNINGS
(RUN RATE: 7.15)
| | | | | | | |
| --- | --- | --- | --- | --- | --- | --- |
| Batsmen | | Runs | Balls | SR | 4s | 6s |
| Wriddhiman Saha | c Glenn Maxwell b Mohammed Siraj | 1 | 9 | 11.11 | 0 | 0 |
| David Warner | c Dan Christian b Kyle Jamieson | 54 | 37 | 145.94 | 7 | 1 |
| Manish Pandey | c Harshal Patel b Shahbaz Ahmed | 38 | 39 | 97.43 | 2 | 2 |
| Jonny Bairstow | c AB de Villiers b Shahbaz Ahmed | 12 | 13 | 92.3 | 1 | 0 |
| Abdul Samad | c & b Shahbaz Ahmed | 0 | 2 | 0 | 0 | 0 |
| Vijay Shankar | c Virat Kohli b Harshal Patel | 3 | 5 | 60 | 0 | 0 |
| Jason Holder | c Dan Christian b Mohammed Siraj | 4 | 5 | 80 | 0 | 0 |
| Rashid Khan | run out (Mohammed Siraj/AB de Villiers) | 17 | 9 | 188.88 | 1 | 1 |
| Bhuvneshwar Kumar | NOT OUT | 2 | 2 | 100 | 0 | 0 |
| Shahbaz Nadeem | c Shahbaz Ahmed b Harshal Patel | 0 | 1 | 0 | 0 | 0 |
| T Natarajan | NOT OUT | 0 | 0 | 0 | 0 | 0 |
| EXTRAS | (nb 2, w 4, b 4, lb 2, pen 0) | 12 | | | | |
| TOTAL | (9 wickets; 20 overs) | 143 | | | | |
| | | | | | |
| --- | --- | --- | --- | --- | --- |
| Bowler | O | R | W | Econ | Dots |
| Mohammed Siraj | 4 | 25 | 2 | 6.25 | 14 |
| Kyle Jamieson | 3 | 30 | 1 | 10 | 9 |
| Washington Sundar | 2 | 14 | 0 | 7 | 7 |
| Yuzvendra Chahal | 4 | 29 | 0 | 7.25 | 9 |
| Harshal Patel | 4 | 25 | 2 | 6.25 | 10 |
| Dan Christian | 1 | 7 | 0 | 7 | 1 |
| Shahbaz Ahmed | 2 | 7 | 3 | 3.5 | 6 |
FALL OF WICKETS
1-13 (Saha, 2.2 ov) ,2-96 (Warner, 13.2 ov) ,3-115 (Bairstow, 16.1 ov) ,4-115 (Pandey, 16.2 ov) ,5-116 (Samad, 16.6 ov) ,6-123 (Shankar, 17.6 ov) ,7-130 (Holder, 18.3 ov) ,8-142 (Khan, 19.4 ov) ,9-142 (Nadeem, 19.5 ov)