Royal Panda Sports Review
100% up to ₹10,000 +3 Tier VIP Program
Great bonuses and offers
Quick payments and transfers
Comodo SSL security
A wide array of casino games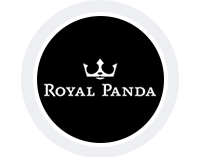 T's & C's apply
This is one of the platforms which has the security of the users as well as their convenience as their priority. RoyalPanda has risen to be one of the best platforms to gamble on as it ensures that all transactions are safe, and all other functions are easy for the customer to use and understand.
The mobile application that they have come out with also works on the same principle of safety and ease. Along with all this, the array of games that RoyalPanda offers to customers is very entertaining and exciting.
The offers and bonuses which are available here increase the excitement and enrich the experience of the players. All factors put together make this platform worthy to be known as one of the best gambling sites out there.
Welcome Offers at Royal Panda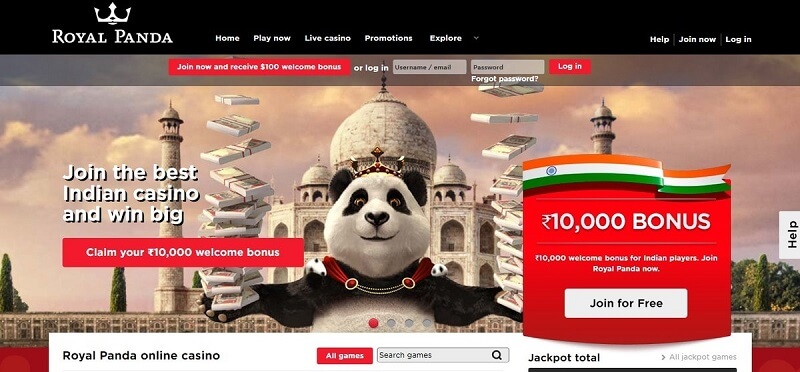 The welcome bonuses are what attract customers to the different gambling sites that exist. RoyalPanda also has many offers that entice the user to indulge in the world of gambling. There is a ?10,000 bonus which is given to new players. This offer is very different from other sites and it is exciting to see a platform that gives out such offers without requiring deposits.

Another offer for customers exists in the form of Loyal Panda points. They can be won by betting 35 times the bonus, which is not a bad deal when compared to other platforms. These offers are the reason people flock to RoyalPanda. Even by Indian standards, these offers are worth considering.
VIP and Loyalty Programs
The program that we discussed earlier while talking about welcome offers is the loyalty program offered by RoyalPanda. There is a ranking system that tells a player where they are on the leaderboard. The levels range from bronze all the way to diamond. This keeps things interesting for people wanting to be a part of the loyalty program.
Players move from Bronze to Silver to Gold to Diamond. You would have to move through
?1,500,000 to get to Silver
?4,500,000 to get to Gold
?1,20,00,000 to get to Diamond
Once you add up enough loyalty points, you can exchange them for bonuses, electronics, and travel offers.
Cricket Betting at Royal Panda
The trouble with newer sportsbooks is that they can never match the number of sports, markets being offered by old titans such as BET365 or Unibet. Royal Panda was established in 2014 initially as an online casino and has most recently made its way into cricket betting. The focus for operator was UK and while cricket is quite popular there, it is simply not as popular as football.
The bigwigs at Royal Panda decided to address this by entering the Indian market well before their competitors had realized the potential of the sub-continent. The result is that Royal Panda has now become the most trusted brand in India when it comes to cricket betting.
At the time of writing this review, Royal Panda offers punters in India to bet on a whole host of cricket matches, tournaments and leagues. You can place bets on your favorite IPL matches as well T20 leagues taking place in Australia, South Africa and United Kingdom.
You can also place bets on more heavyweight events such as the ICC World Cup, T20 World Cup and ICC Champions Trophy. When it comes to placing bets on these matches, the usual suspects are all present for you to choose from. You can place bets on Match Winner, To Win the Toss, Team of Top Batsman, Top Match Batsman, Man of the Match and Man of the Tournament to name but a few.
We understand that the options available when it comes to type of bets may not be as extensive as say BET365 or Betway but the bookmaker's slick product and interface allows you to overlook these shortcomings. The result is you have a bookmaker that perfectly positioned for cricket betting and one that will no doubt improve further as time goes on.
Sure, the selections aren't as vast as they are at many other much longer established sportsbooks, but when you bet here, you know you're not betting at one of the big ones and should already be aware of the limited options.
Casino Game Selection at Royal Panda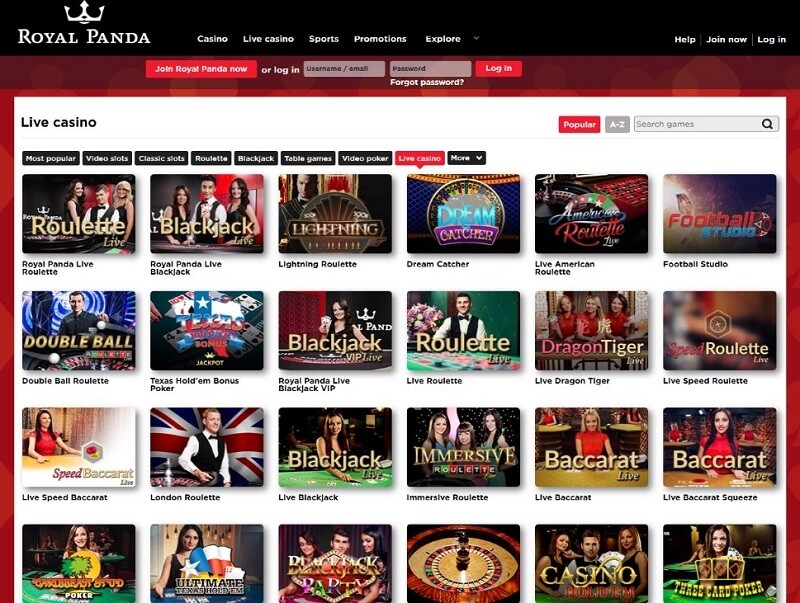 The wide selection of games is what keeps things interesting for customers. Playing the same game, again and again, would only decrease the interest of people and they will invest less time in the platform. Luckily, RoyalPanda has a wide selection of some of the best games out there, and keeps things going for the players. Here are some of the games in the arsenal of games of RoyalPanda:
These games are the easiest to play and the most fun to experience. The different permutations and combinations possible send shivers down the spines of the most seasoned players there are. RoyalPanda has nailed the selection of slot games on their platform. Some of the popular games are Mega Moolah and Starburst.
There has also been the introduction of new Indie games which have refreshing concepts and offer new ways to play the game. For someone looking for the classics, there is Route 777, Break da Bank, and other slot games that are tried and tested.
These games are fun as they offer so much more than what one might have invested. The rewards here are massive and offer the world to the player. This is what makes them a favorite among audiences. One of the rewards which a game offer is of Rs. 72 crores, which is a huge number and can make anyone's life. This game is called Hall of Gods. Other games also promise these big rewards, which make one want to test their luck.
Roulette is such a game that has been remembered as one of the classic games for generations. A casino without roulette is like a diamond without the spark. Hence, keeping the fans of this game happy is a responsibility that must not be taken lightly. There are 17 variations which are provided by RoyalPanda, and each one is better than the next. The best version is the classic Euoropean one. As a wise man once said, no one can beat a classic. The other variations have also gained popularity over the years and have had great responses from audiences.
These games are the heart and soul of any casino. One of the most brutal yet interesting games out there, this game has a cult following which cannot be beaten. Blackjack is addictive and can drive any man insane. RoyalPanda offers this craziness in the form of 11 games, each with a variation of its own. Each version is better than the next. Such is the power of blackjack at RoyalPanda.
RoyalPanda offers live casino games for all those players who want the actual feel of the sound and activity that a buzzing casino offers. This brings the feel of a casino gaming experience closer to you, no matter where you are.
Video poker games on RoyalPanda are for players who enjoy the high stakes game of poker. It provides an opportunity for users to either play for fun, without real money, and just have fun with the whole experience, or to up the stakes and play with money.
Banking Options at Royal Panda
RoyalPanda has all the basic and necessary options to make proper and safe transactions. The options may be limited, but they are enough to get by. These options include:
Skrill
Neteller
Paysafecard
Credit/Debit Card
Mobile and Betting App

RoyalPanda supports Android, iPhone, Windows phones, iPad, Mac, and PC, which is a well-distributed variety of devices. This allows mobility for players. While there is no separate app as such, the website adapts to devices, which is good enough.
The lack of a dedicated app is a minor flaw, but the website design does the job of adapting to the device quite well. Thus, the users have no cause for concern.
Customer Support at Royal Panda
An FAQ page that covers most of the basics, a live chat feature, email support, and call-based support are available for those who need it. RoyalPanda has a satisfactory customer service experience, taking time out to answer customers' questions to the best of their abilities. They offer quick, friendly, and highly efficient service, which is a great deal for any casino.
Our Verdict
RoyalPanda is a good platform for online gaming. It has a standard list of games and supports most major devices and banking platforms. While it does not have a dedicated app, it does not allow that to get in the way of user mobility and offers great customer service.
They have an amazing joining bonus as a loyalty program that is quite attractive to customers. It is one of the top choices for Indian players today and can be a good entertainer.

Title: Royal Panda Sports Review
Posted On: 10/12/2019
Author: Tony Willets