Betway Cricket Betting App Review

Over the course of few years, Betway has grabbed a good chunk of the cricket betting market in India. There are several reasons that have contributed to its success which include having a fantastic cricket betting app.
Yes, Betway unlike some of the other cricket betting sites, has realised the potential of mobile betting in India. Currently sitting at over 1 billion people in population, India has a fairly substantial smartphone usage as well. Gone are the days when people would be seen flashing their latest Nokia phones, now India is a market that is home to several brands including Apple, Samsung, Xiaomi and Oppo.
Keeping this in mind, Betway have created a cricket betting app that provides a great mobile betting experience. In this article, we dissect the cricket betting app further providing reasons as to why we think it is a good idea to download the Betway app.
Betway Cricket Betting App | Overview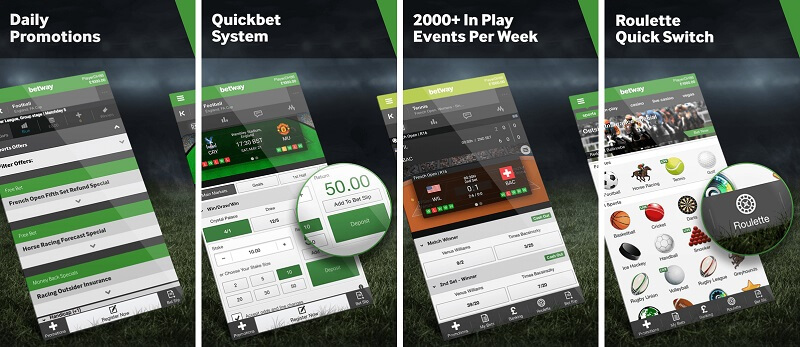 The easiest way to test the usefulness of an app is to compare it with its big brother aka the desktop version. Some operators in a bid to rush into the mobile app market create a product that is devoid of features. The product lacks functionality leading to a user experience which is far inferior than what can be found on the desktop version.
We are happy to report that the Betway app has successfully transitioned features from the desktop site onto the mobile app. This means you get the full fat experience with all the sports including live-streams. The menu itself is nicely laid out in a design that feels compact yet fulfils all the criteria when placing a bet. There are sections dedicated to each product depending on whether you would like to choose casino, sports or live casino. In-play can be reached via tab on the homepage and you can also access the cashier via a dedicated button as well. All in all we found the Betway cricket betting app easy to use.
Betway Cricket Betting App | Placing a Bet
The last thing you need when placing a bet on the go is to have to jump through several hoops. Placing a bet should not take more than 4 or 5 steps to completion. If the cricket betting app requires you to do more, than clearly they have not put the end user in mind when creating the app. Once again, the Betway cricket betting app smashes this out of the ground by allowing you to place a bet in five steps.
First and foremost, you are required to choose a sport you wish to bet on. This can be achieved in two ways. You can either access the sport via the tab on the homepage or by opening up the menu and scrolling till you find the right sports. If you are looking for cricket, then this process will take you a couple of seconds as cricket prominently displayed in the cricket betting app.
Second step requires you to choose the tournament or event you want to take part in such as IPL, ICC World Cup or a particular series. Choosing the event will open up all the betting markets that are available. Carefully select the market which will open up the bet slip. Once the bet slip is open, enter the amount you wish to bet in the stake box and click the confirm button. That's it. Your bet is now placed in five easy steps.
Betway Cricket Betting App | Functionality & Navigation
As opposed to creating one product that would suit the needs of both Android and iPhone users, Betway has created dedicated apps for each. The Betway cricket betting app is available to download on both Android for users with operating system 4.1 and up and iPhone for users with iOS 8.1 and up.

The homepage gives you easy access to all the sports markets as discussed earlier. You have a menu button on the top left that when clicked opens up links to other sections of the app. These include promotions, in-play and the cashier. A simple yet functional layout that makes it easy for users of all ages (18+ only!)
The benefit of keeping it simple is that the app functions smoothly. This is even true when placing bets on live events. While there might be some lag when betting in-play, we think this is perfectly normal. Also you need to keep in mind that the lag is also dependant on the quality of both your phone and internet connection. It is always advisable to have a newish handset when placing bets and preferably doing it over Wi-Fi. The good news with in-play betting is that you get to see a fancy infographic which is both interactive and good to look at!
The other side of the 'simplicity' coin is that the app does not come with any extras. What we mean by that is that while it does display a tab for promotions, clicking on it takes you out of the cricket betting app and onto an external page of the mobile browser. We are still scratching our heads as to why Betway has done this as it defeats the purpose of having an app in the first place. So apart from the slight complaint of not having a dedicated cricket betting app 'promotions' page, Betway has done a good job.
There is even a live chat support feature which much to our amazement worked like a charm. The Betfred cricket betting app is the only other one we can think of that provides a similar service.
You also get the full suite of payment methods in the Betway app. We must say that Betway provides you with every opportunity to deposit and withdraw your funds. Payment methods include your standard debit and credit cards along with e-wallets such as Skrill and Neteller. Making deposits via the app incurs no charges to the player the withdrawal processing times were well under the industry standard.
Our Verdict
If you are looking for a betting app that is chock a block with extras and fancy promotions, then this is not the app for you. The Betway app is all about simplicity and the ability to place a bet with ease. The layout and interface are easy to navigate through meaning that you are never far off from your favourite sport. For Indians, cricket has been given prominence on the betting app allowing you to place bets on Kohli scoring another hundred in just mobile taps or less. Move away from cricket and you will be spoilt for choice as there are a ton of sports available for you. These include horse racing, tennis, basketball, ice hockey, Formula One to name but a few.
We highly recommend you use this app as it ticks all the major boxes with only the lack of exclusive mobile promotion being the only drawback.
Title: Betway Cricket Betting App Review
Posted On: 10/04/2020
Author: Tony Willets